After our last hike at Monks Cowl, the weather had changed dramatically, the temperature had dropped by 20 degrees and fog, clouds and a constant drizzle made us spend a day in our car. When we left the next morning, we visited some food stalls were we bought cheese, bread and many other treats, before we reached the Royal Natal National Park, where we stayed the next 2 nights at the Mahai Campsite.
When we arrived, the weather was beautiful again and we went on a short hike to the Cascades, some waterfalls, and a little further into the valley. For the next day, we planned to hike into the gorge, along the Tugela River. When we woke and it was cloudy again, we were disappointed, but started anyway. After nearly an hour into the valley, the first blue gaps appeared between the clouds and it wasn't long and we had blue skies and sun.
The cliffs of the famous Amphitheater are 5 km long and the cliffs rise approximately 1,220 metres along its entire length. The highest peaks along that cliff are more than 3,000 metres high.
After 3 hours we had reached the "tunnel", a narrow stretch of the gorge, where we would have had to climb over all that rocks to continue. (It looked like Karl's Dinner to us, in case you know what that means.) We found this was the right spot to turn around, for sure missing more fantastic scenery further up the river.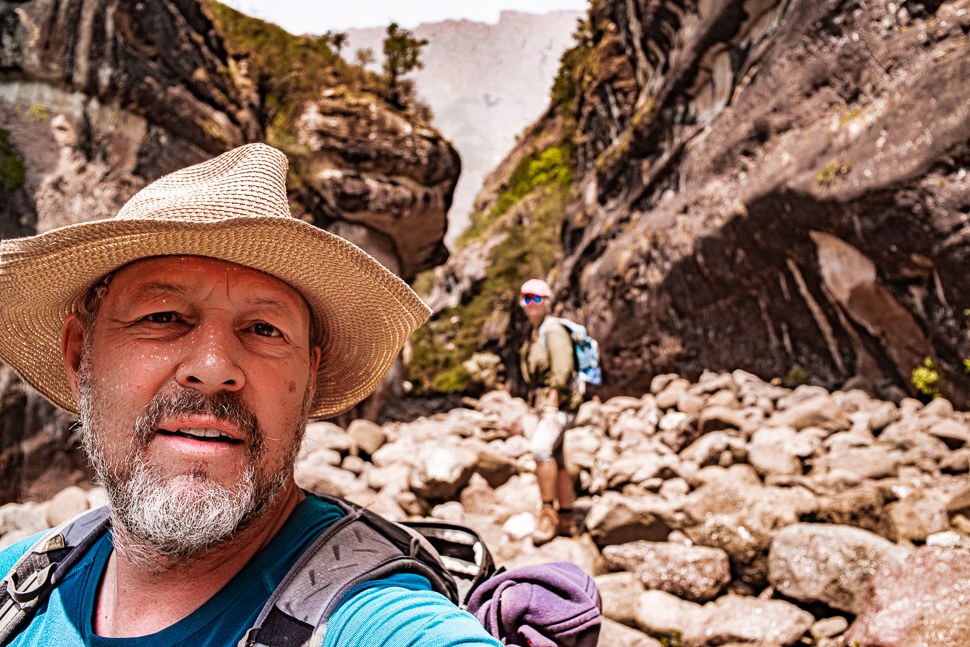 We were back at the parking after 5 hours, and just the moment we reached our car, the first rain drops came down. This hike was fantastic and we loved the scenery with these incredible mountains. The Amphitheater is for sure the part of the Drakensberg you shouldn't miss.
From here, we will make our way north-west, along the border to Lesotho. More soon!