We made it to Mana Pools!! We had heard so much about this park in the north of Zimbabwe directly at the Zambezi River, that we didn't want to miss it. It was a 2 days drive from Harare to get there. This time we stopped at a lovely campsite north of Lion's Den on the route.
We had no reservation for Mana Pools, but got the permit to enter the park without any discussion. As soon as you leave the main road, you have 80km of corrugated gravel road to get to the office and the main campsite at the river. For us that was 3 hours of painful driving. But when you get there, everything is forgotten.
We spent 3 nights at Nyamepi campsite, where we got one of the 4 campsites, which are reserved for visitors without reservation. The campsite was not very booked and the first night we had the place nearly to ourselves.
There are 4 pools, which still had more or less water during this dry time of the year. The crocs gathered where there was still enough water left for them.
Apple-rings, the fruit of an acacia, are a favourite food for baboons, elephants and many more. This Chacma baboon for sure enjoyed them very much.
The campsite is unfenced and the animals are really unperturbed by cars and people. They walk through the campsite day and night. During the day we had elephants looking for something to eat or drink, walking straight up to the campers. During the night, hyenas and lions checked, if there is something left for them. Our wildlife camera documented what happened while we slept.
We had placed the camera on a braai stand, which the lions checked out, nocking it over. Big lion footprints in the sand confirmed the visit.
The next day, we found the pack resting during the day, about 2 km from our camp. 2 males and 3 females were waiting for the evening, before they would start hunting again.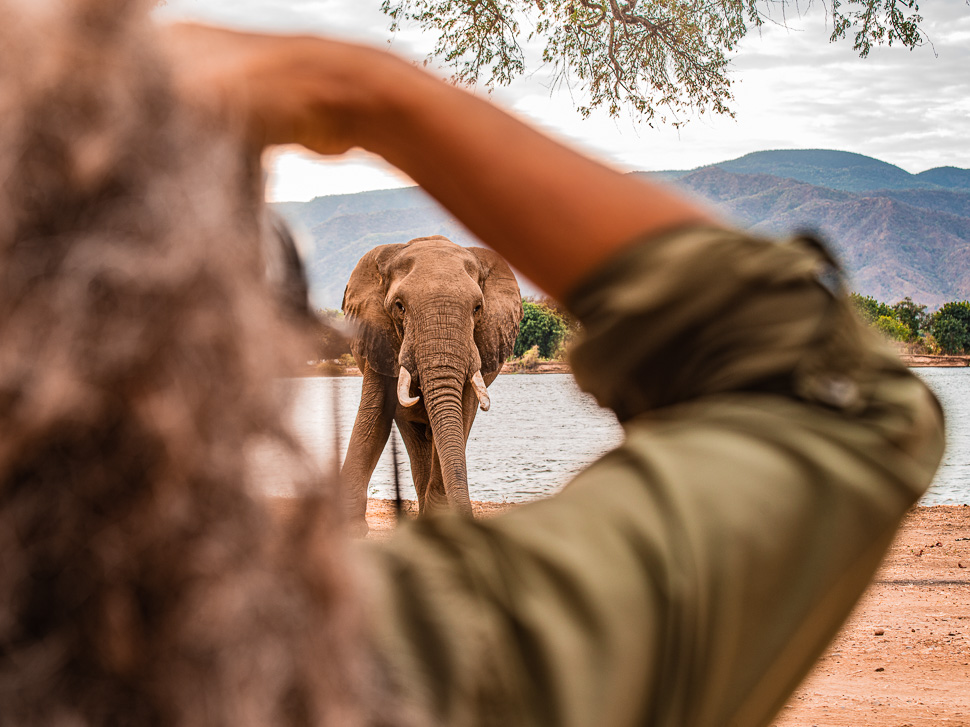 Mana Pool has a fantastic landscape with the pools and river as a great water source for the animals. Nevertheless, we had not seen as many animals as expected maybe, but what had happened at the campsite was for sure a first for us.
We will now tackle a long and difficult gravel road to get to the Victoria Falls, via Binga along the Kariba Lake. More soon.