After a day of driving from Gonarezhou, we reached the ruins of Great Zimbabwe. It is the most important cultural heritage of the country, which reflects in the name Zimbabwe and also in the flag. The name Zimbabwe derives from dzimba-dza-mabwe, translated as "houses of stones", the name the Shona gave the buildings left from their ancestors.
The bird in the flag of Zimbabwe is an important symbol, representing the birds which were found in Great Zimbabwe. They were carved from soapstone, about 40 cm tall, and stood on a column at the wall or one of the monoliths in the enclosures. They are unique to Great Zimbabwe, nothing like them has been discovered elsewhere. 7 of them are displayed at the little museum, which had no light when we visited, so we had to use torches.(This is Africa)
The city of Great Zimbabwe was built by ancestors of the Shona, starting in the 11th century and inhabited for over 300 years. The ruins are the largest ancient stone construction in sub-Saharan Africa.
We started our visit with the Hill Enclosure, which we reached over the "Ancient Path". The outer wall of the enclosure is 8 metres high and 5 metres wide at the bottom. It was decorated with little towers and columns, some of them are still standing.
Do you recognise the form of the bird in the boulders? We were told, that was the model for the soapstone birds, which were found here.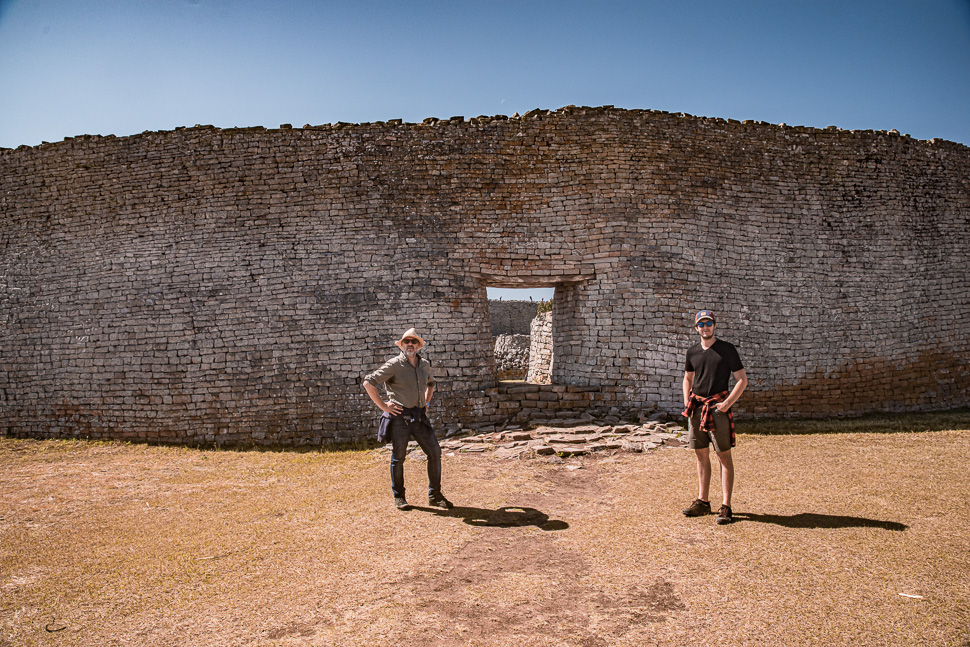 The Great Enclosure, with its 11 metres high walls, is considered the biggest medieval building in sub-Saharan Africa. 15,000 tons of stone were used for its construction. Many things about the ruins are still unclear and will remain so. Many traces were destroyed by white amateur archeologists, looking for an explanation, who built this city. That it was the local black tribe was considered impossible. A qualified excavation might have brought more information about this fascinating culture, but now it is too late.
We were impressed by the size and quality of these ruins. Not all our guide told us, might have proofed evidence, but that makes this place so mysterious. Nobody really knows what had happened here, but what they created here is very impressive, especially as there is nothing comparable in all of southern Africa.
We spent a relaxed evening at the campsite of Great Zimbabwe Hotel and continued the next morning in direction of Bulawayo.