After picking Monty up from the airport, we spent the night at Dana B Savanna Camp south of Harare, which was a great place with some game around, a campfire at night and beautiful ablutions.
We started our tour through Zimbabwe in the direction of the Eastern Highlands. On the way, we stopped at Diana's Vow – a site of rock art and also discovered the Pink Elephants.
We knew where the Pink Elephants should be, but there was no sign and no path. We started on a small track which soon disappeared and climbed through the rocks in the direction the place was marked at the IOverlander map. Luckily the position was accurate and we found an overhanging rock with at least 5 pink elephants, a fascinating site and great to discover it that way.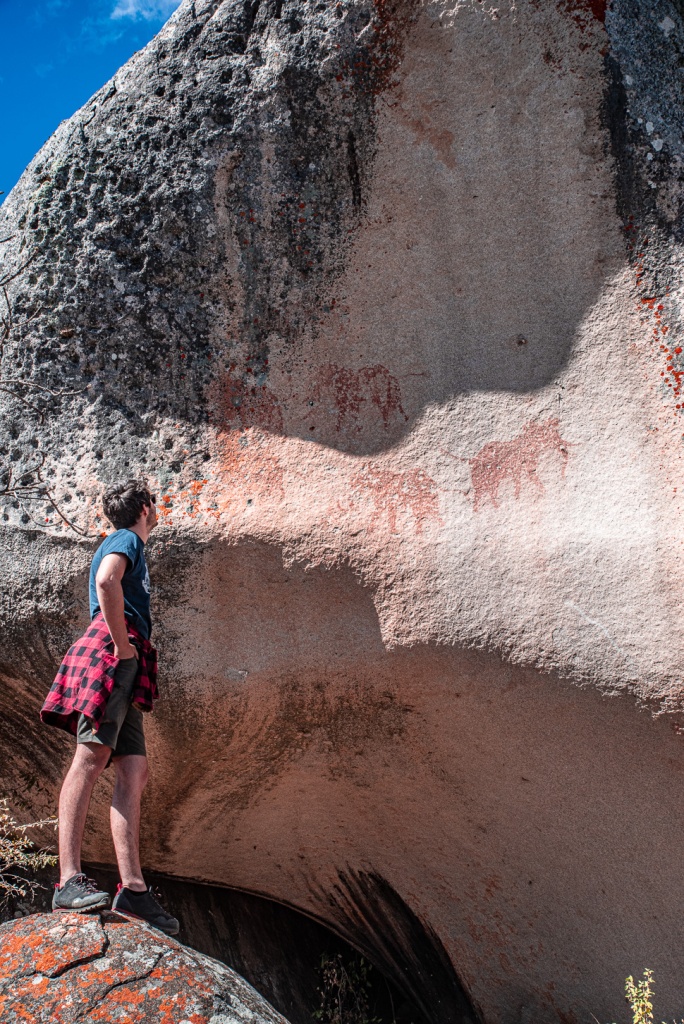 The next site was Diana's Vow, which even had a sign and a guide who sold us tickets and showed us around. There is one overhanging rock full of special rock art. Outstanding was a big person with an antelope mask, lying at the top of the paintings, considered as part of a rain ceremony.
At this place, we also saw remains of a fortress constructed around the boulders, using stone walls and small passages as entry ways for protection.
We ended that day at Hidden Rock Campsite close to Juliasdale, where we not only had an incredible view, but also discovered 2 rock art sites and another fort on a huge boulder.
We are on the way to the Ziwa Ruins now!