We had reached the town, from where any excursion into the Vashlovani National Park starts: Dedoplistsqaro – a name we have not managed to remember even shortly. We got our documents for the national park including the permit from the border police and decided to explore a little the surroundings of the town, before we will drive into the park the next day.
The gorge is famous for its birds, like eagles, vultures and even black storks. We might have spotted an eagle at a big distance, apart from that there was not much to see beside of the nice landscape.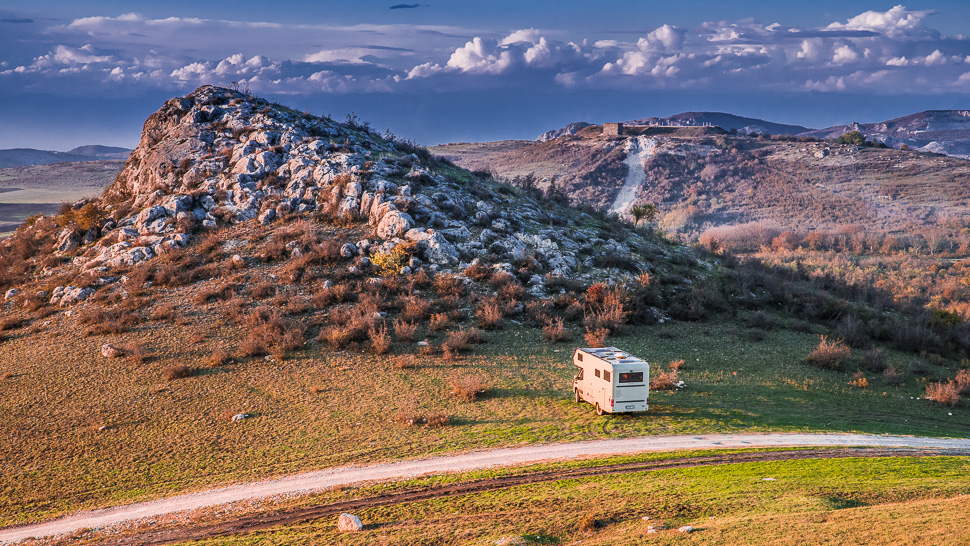 We also drove to the Khornabuji castle, which was not such a good idea, as the video shows. The route took us through a kilometre long overgrown ravine with no chance to turn around. We probably doubled the scratches on our car with this trip. In the end we reached a lookout, from where we had a great view of the castle. Sadly there was no other way out than to drive everything back again. So if your car is not a rented UAZ, we would recommend to walk.
In the evening we visited the little St. Elias Monastery, which is glued to the rocks. From there we had a great view in direction of the Vashlovani National Park.
Tomorrow we will drive into the park and hopefully the roads will not be too much of a challenge for us. The weather forecast is perfect, so let's see what awaits us. More on our next post!