When we left Marsabit, we did a tour through the national park there, which is an incredible forest surrounded by a very arid landscape just outside the park borders. We came past 2 crater lakes and saw many butterflies, but not much more.
Afterwards, we made our way south on a very good road, which led us past one of the sacred mountains of the Samburus, Mount Ololokwe, before we reached Archers Post, where we turned right to the Samburu NP.
We stayed at a campsite outside the national park and started our game drive the next morning, being greeted by a regular – the African Fish Eagle.
The reticulated giraffe, also known as the Somali giraffe, is a species of giraffe native to the Horn of Africa. It lives in Somalia, southern Ethiopia, and northern Kenya. There are approximately 8,500 individuals living in the wild and it was the first time we came across them. We consider them the most beautiful giraffe!
The Grévy's zebra, named after Jules Grévy, a French President, was another first for us. It is the largest and the most threatened of the species of zebra, found only in parts of Kenya and Ethiopia. Compared to other zebras, they are the tallest. They have larger ears, and the tightest stripes of all zebras. The mane is distinctively erect, and the snout is more slender. This one was a little bit dirty, which makes it appear brownish.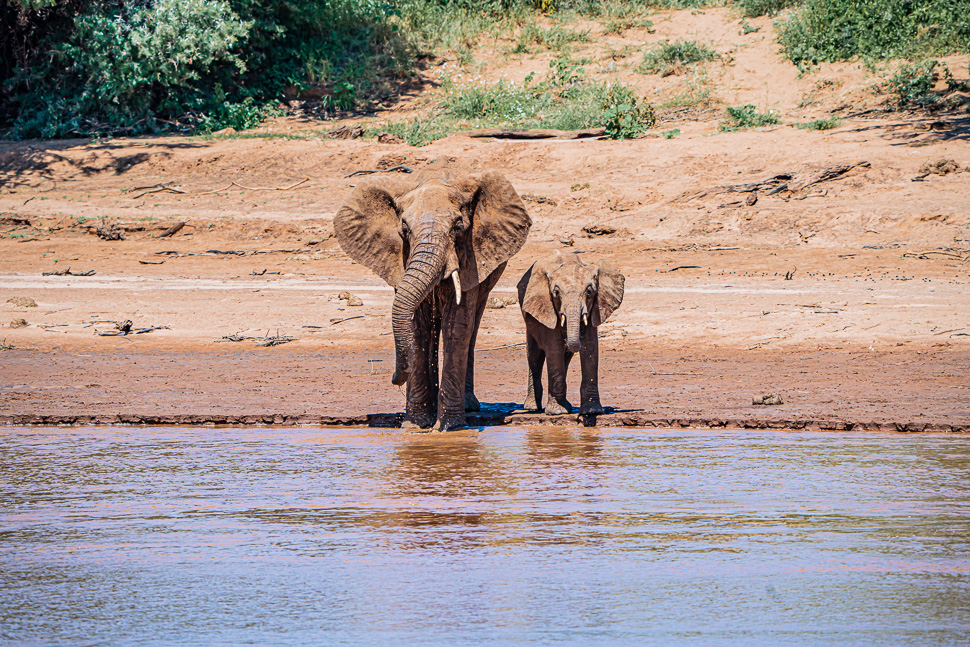 What have we here? We felt very lucky to have spotted a cheetah in the high grass. She was sleeping under a tree and only sometimes she lifted her head. We took our time watching her and suddenly she got up and looked around. It didn't take long and she settled down again, but in that instant, we could spot 3 cubs lying in the shade with her.
The gerenuk, also known as the giraffe gazelle, was another animal we hadn't seen before and we were happy we could finally spot them here. It looks like an alien we thought and it is now our favourite antelope.
The next day, we continued south, getting a good view of Mount Kenya from the road.
We finally crossed the Equator again, probably for the last time here in Africa.