Already the drive up along the coast, through the tunnel connecting the island of Magerøya with the mainland and finally over the barren plains to the North Cape was very fascinating. When we finally reached the cape, nobody was there and we had the famous globe to ourselves.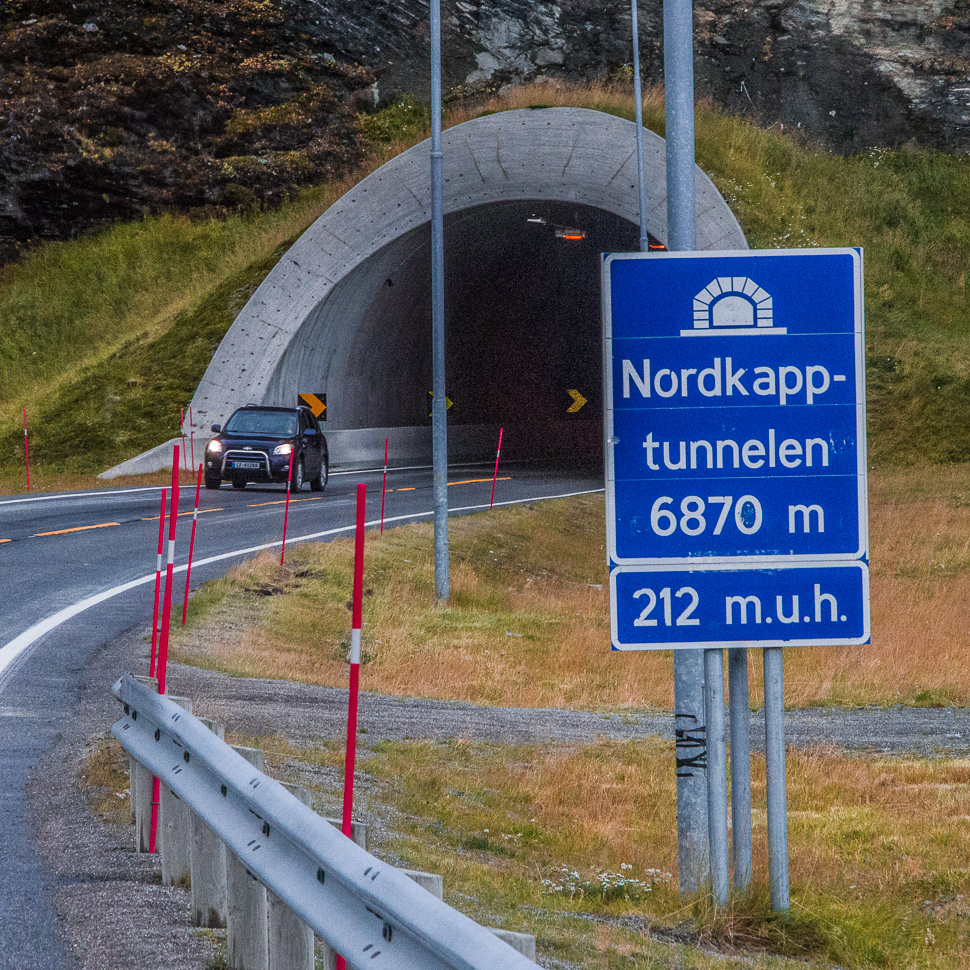 At night, we were the only car there and parked close to the cliff with great views. Already in the evening the wind picked up but the later it got the stronger the gusts became. The car rocked from side to side and everything rattled. I had to hold on while brushing my teeth! In the end we moved away from the cliff and put the automatic poles out so we didn't rock so much. That way we slept very well.
Beside a big restaurant area there is also a souvenir shop with everything about the cape you can imagine. We bought some postcards we could send from here and which will get a special postmark. Of course there were also some other things we couldn't resist to buy.
We payed 850,- NOK (77,- Euro) for the parking and the entrance for the two of us to the North Cape Hall, which we found worth the money. An exhibition informs about the environment and the history of the cape with early visitors at times when there was no road and you had to climb up from the sea. In a huge auditorium a video about the cape during the year is shown on a wide screen giving you a bird's eye view of the area.
As there were nearly no visitors we got the chance to chat with the staff and get some insights. There were up to 6000 visitors per day before the Corona crisis struck. Cruise ships normally stop at Honningsvåg and passengers are transported by bus up to the cape. All that didn't happen that year.
Usually it is not possible to drive around the North Cape Hall and directly to the globe, but with a special permission we were allowed to do that. Many thanks again to the nice staff who permitted it. This was a very special experience which we will remember forever!
We have been at the the westernmost point of Europe at Cobo da Roca in Portugal. Here we came close to the northernmost point, which actually is Cape Nordkinn, but for us the North Cape was the northernmost point of our journey through Europe.
It was for sure a special experience to visit the cape during a time of lockdown with that few visitors, something we will remember forever. I hope we will be able to come here again maybe at another time of the year and get a different experience to compare with.