The windmills of Castilla – La Mancha are a special landmark on this otherwise very flat tableland about 700 metres above sea level, known as meseta. In the end we went to 3 different locations with windmills: Campo de Criptana, Alcázar de San Juan and Consuegra. Each set of windmills had their own characteristics.
Our first stop was at Campo de Criptana, where the mills stand on a flat hill above town and even between the houses. You can park on top of that hill and wander around the mills and down into the village with its white and blue houses.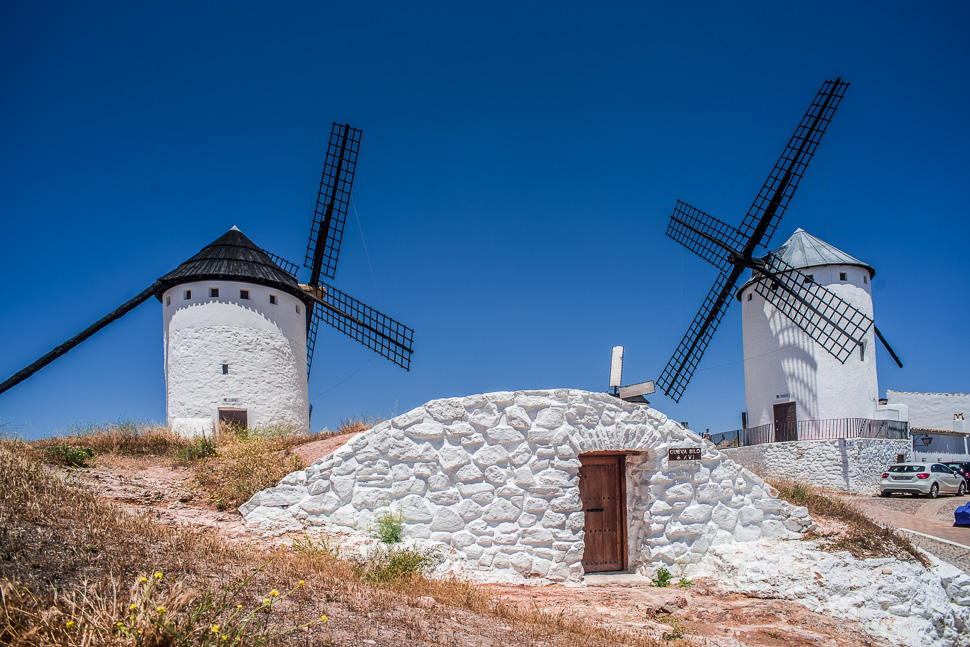 Not far from Campo de Criptana, we had spotted 4 windmills sitting on top of a small hill, which were the windmills of Alcázar de San Juan. You can drive up on a small road and get a great view over the meseta.
Our third destination was Consuegra, which is well visited as there is a castle and a line of mills along a mountain ridge, which make it an exceptional spot with great views.
The castle of Consuegra was probably built in the first stages of the Reconquista after 1085. Under Alfonso VIII it was transferred to the Order of St. John, who set up the seat of the La Mancha priory and expanded the castle, which received a double curtain wall and four fortress towers.
We decided not to wait for the sunset, but instead headed to a more quiet place, from where we want to cycle a Via Verde the next day – more on our next post!