On our way from Jávea westwards through Spain, we decided to follow the Júcar river, which we reached at Alcalá del Júcar. From here we followed the river upstream and were mesmerised by the incredible valley. The soft limestone was not only formed by the river but also used to build houses into man made caves. We discovered many old structures but also modern houses, which were constructed into the soft rock.
At Alcalá del Júcar, the river makes a strong curve and the village lies on one side of the cliff, extending their caves to the other side, where windows and balconies give light and a great view into the valley. We had been to Alcalá del Júcar before, and had visited the Diablo cave, where you enter a house in the village and then reach the balcony on the other side. (Post from our first visit)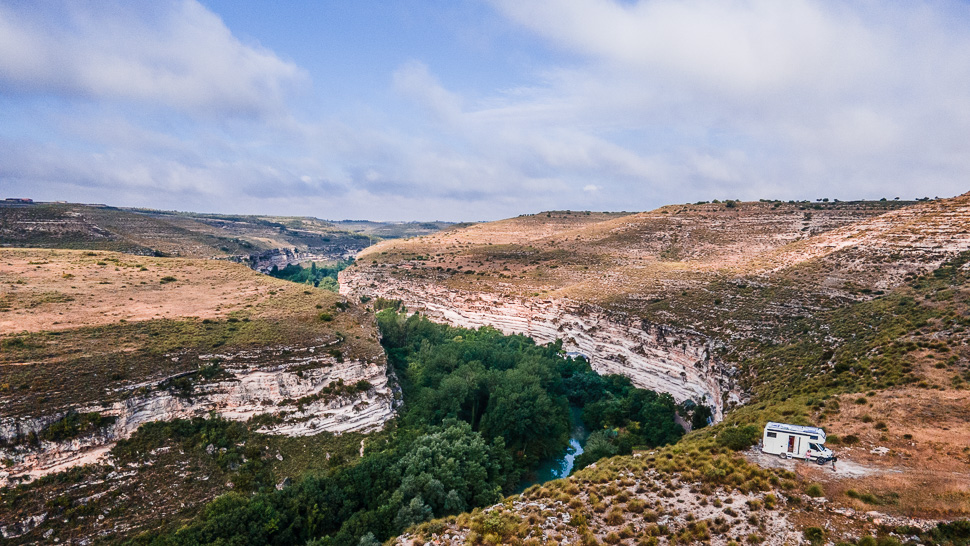 We didn't put this spot on Park4Night, but for our lovely readers we will reveal its location: 39.162180, -1.561741. The street to access it was narrow but no problem at all. After the thunderstorm from the night before had passed and a new sunny day had started, we continued our way along the river.
The Júcar river is 500 km long and has its source North of Cuenca. It flows first southwards and then turns eastwards until it reaches the sea at Cullera, south of Valencia. We had met this river in different places like Cuenca and Cullera, but this part between Alcalá del Júcar and Alcozarejos was really impressive.
3 metres are not enough for us, as we are 3,6 metres high, but our experience told us to wait and see. We were curious what kind of low bridge or tunnel we would reach in 2 km. In the end it was nothing at all. There were some rocks a little bit low at the side, but the road was wide enough that we nearly didn't notice it.
We will now leave the Júcar river and are looking for the windmills Don Quixote mistook for giants which he had to fight as the knight he felt he was. More on our next post!