We were hanging around in the area of Stavanger to wait for better weather so we could hike to this giant rock standing tall at the side of the fjord. Finally the weather forecast promised no rain and even some sun and we were on our way.
In summer there must be hundreds of people doing this hike, if you look at the size of the parking and infrastructure. Luckily this day there were just some Norwegians who believed in the weather forecast like us.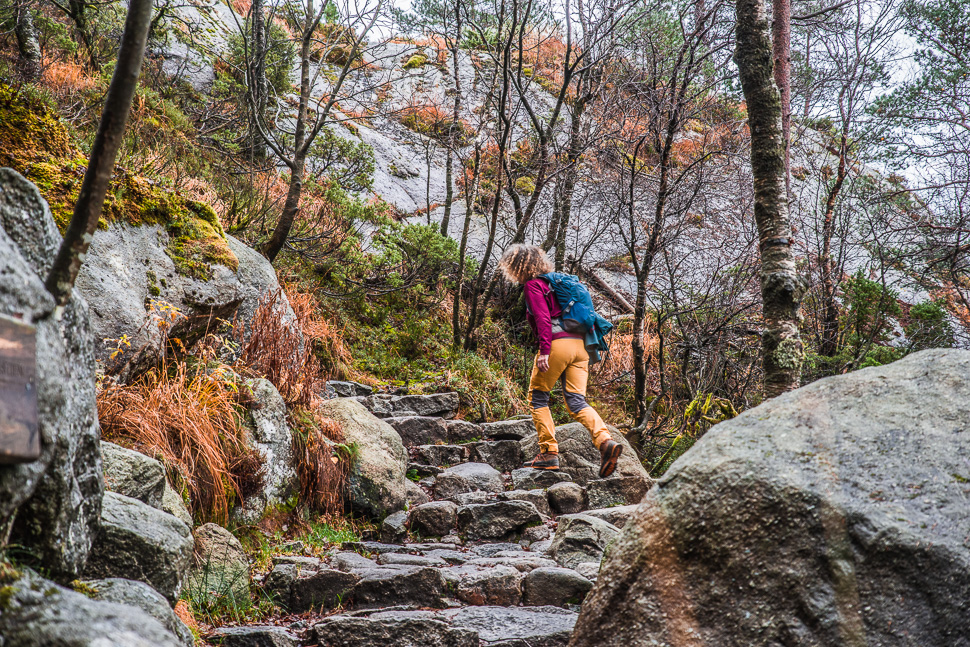 We started the hike with a grey sky and the clouds hanging low. Soon it started to drizzle which turned into a light rain. We were still hoping the sun would come through eventually and continued up into the mountains.
When we reached the Preikestolen (in English "Pulpit" or "Preacher's Chair") we could just make it out, with the fog disguising most of its height. We decided to wait up here as long as possible to see if the weather would change and we were lucky, slowly some blue sky emerged and suddenly we could see into the fjord below.
The steep cliff of the Preikestolen rises 604 metres above Lysefjorden. It was formed during the ice age, approximately 10,000 years ago, when the edges of the glacier reached the cliff. The water from the glacier froze in the crevices of the mountain and eventually broke off large, angular blocks, which were later carried away with the glacier. This is the cause of the angular shape of the plateau.
Along the plateau there is a deep crack. Due to this crack, the plateau will at some point fall down, but all the geological investigations have confirmed that this will not happen in the foreseeable future. Lets hope they are right!
What a day and what a hike! We were so happy we did it and in the end it turned out so well. No we can leave the area of Stavanger and continue our journey south, looking for some nice lighthouses for a change. More on our next post!