We had spent the night outside of Salzburg in front of a ruin, where it was quiet and we could stay undisturbed. The next morning a cloudless sky promised an amazing day. We decided to go for a walk at the park of Hellbrunn, a pleasure palace south of Salzburg.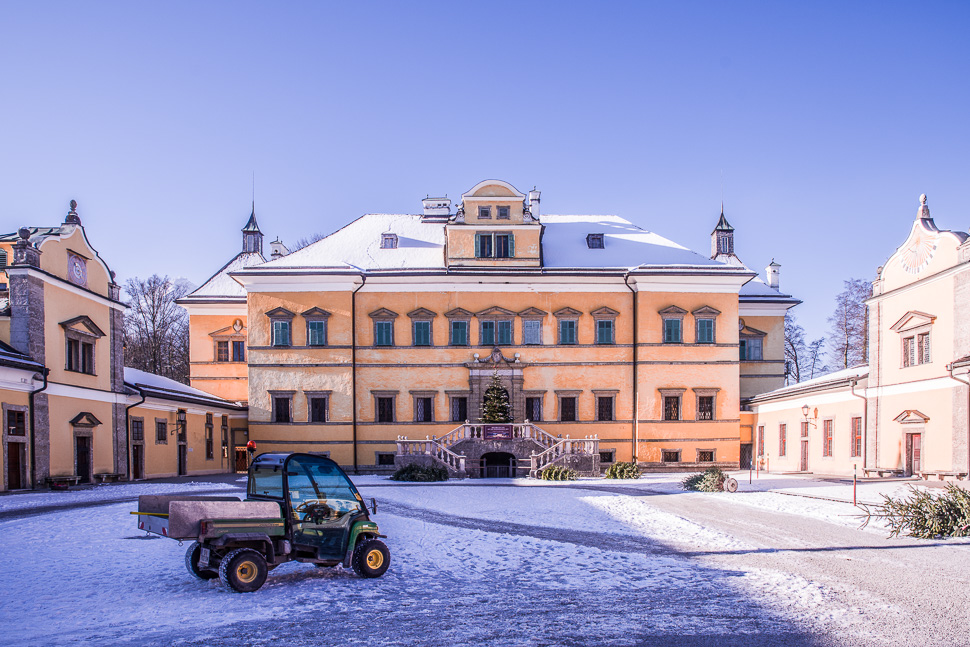 From 1613 to 1615 the Prince Archbishop of Salzburg, Markus Sittikus von Hohenems built a "villa suburbana" based on the Italian model at the gates of the city of Salzburg surrounded by a vast park which is today under protection. In summer the historic fountains are one of the highlights for visitors.
In the park we came past the stone theatre, carved into the rocks, where in 1617 the first acknowledged music performance took place.
We were surprised that the shops next to the castle were open for take away. Seizing the opportunity, we bought hot chocolate, which we enjoyed at a sunny bench in the park. It felt like a luxurious treat in times of a complete lockdown.
After our morning at the park of Hellbrunn we crossed the town again to pay a visit to the truck dealer Tschann in the north of Salzburg, which is also the representative for Tatra trucks in Austria and Bavaria.
The interior of a new Tatra is very luxurious and the technical features make it a good base for an expedition vehicle. Especially the fact that the frame doesn't twist, is ideal to build a cabin on it.
If you plan a big expedition vehicle, we can recommend you our Tatra, it will take you everywhere! Contact us if you are interested.
We are now again on the way to explore the snowy mountains of Austria, doing another circle through the Alps. More on our next post.