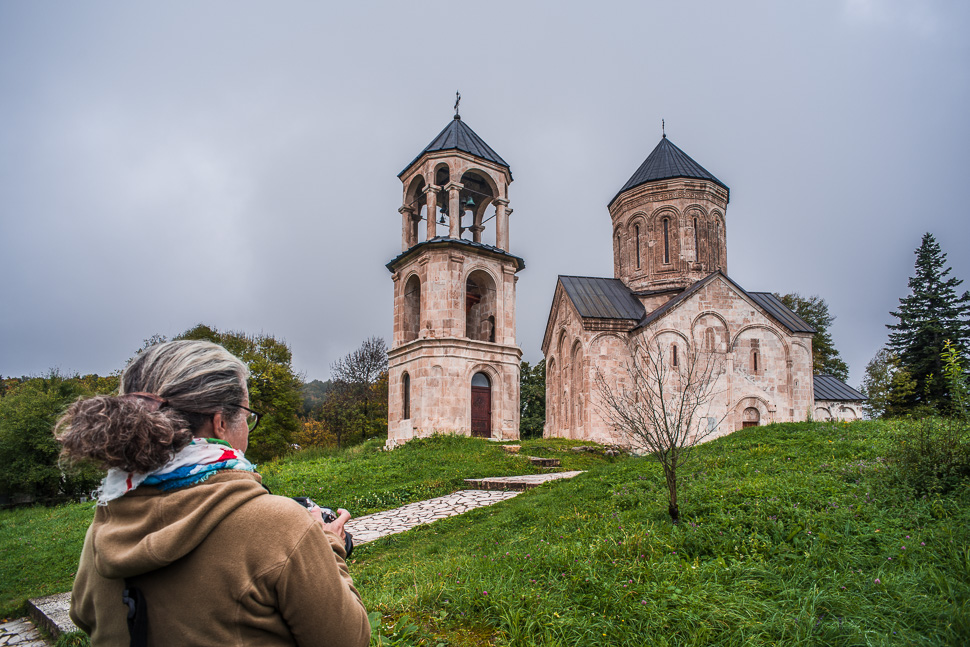 After spending the night at a lake near Nikortsminda, we were ready for our first Georgian church. But on the way to Kutaisi we had to stop at another important monastery and at Kutaisi we parked next to the cathedral – more than 3 churches in a row – we expect that this is just the beginning, as there are so many interesting churches in Georgia.
Built in 1010–1014 during the reign of Bagrat III of Georgia, the church of Nikortsminda is a typical Georgian cross-dome. The exterior is decorated with intricate ornaments and motives carved in stone. The frescos inside are from the 17th century.
South of Nikortsminda, we came through the mining town of Tkibuli, which had had better times for sure. But our next destination was the Gelati monastery, just outside of Kutaisi.
Gelati was one of the first monasteries in Georgia, founded in 1106 by King David IV of Georgia as a monastic and educational center. It had an academy that employed Georgian scientists, theologians and philosophers.
A large mosaic from the 12th-century, depicting the Virgin Mary holding the baby Jesus, dominates the apse of the main church. Luckily the roof of the church was recently repaired and also the frescos seemed to be under renovation.
Bagrati Cathedral was built in the 11th century, during the reign of King Bagrat III. In 1692, it was devastated in an explosion by Ottoman troops which caused the cupola and ceiling to collapse. Reconstruction was finished in 2012, during which the few old pieces left were supplemented with new stones.
The Colchis fountain is decorated with enlarged models of archaeological artifacts found in Georgia. The main figure of the fountain represents a woman's jewelry.
We spent the night next to the cathedral, and will leave Kutaisi again tomorrow, to explore a former Soviet spa town. More on our next post!