Tsqaltubo is known for its radon-carbonate mineral springs, whose natural temperature of 33–35 °C enables the water to be used without preliminary heating for balneotherapies. The "Spring No. 6", the largest thermal bath and still open, was built in 1950 exclusively for Joseph Stalin, leader of the Soviet Union at the time.
The spa was especially popular in the Soviet era, attracting around 125,000 visitors a year. Currently it receives only some 700 visitors/year, leaving most of the Grand Hotels abandoned to their fate of decay and destruction.
Our first impression was, that the complex of the huge Meshakhte Sanatorium was fenced in and we would just get a picture over the fence. Then we saw a group of young people entering at a gate, where a guard was holding his hand up for a tip to let you in. Of course we were the next to pay him and get in.
Especially impressive was the giant ballroom/theatre, where you really could feel the splendour of the heydays in this Grand Hotel.
On one of the wings of the hotel, a roof top terrace caught our interest, and we made our way in that direction, finding a small spiral staircase going up. When we finally reached the top, a photo shooting was taking place, and best of all, the young guy used an antique, analog Pentax camera! What a great choice!!
From the top we saw the Iveria Sanatorium, beautiful, but in about the same condition as this one, so we knew where we would try to go next.
There was a gap in the fence, which for sure was well used. The Iveria Sanatorium is a little bit smaller than the first one, but has a very nice surprise inside.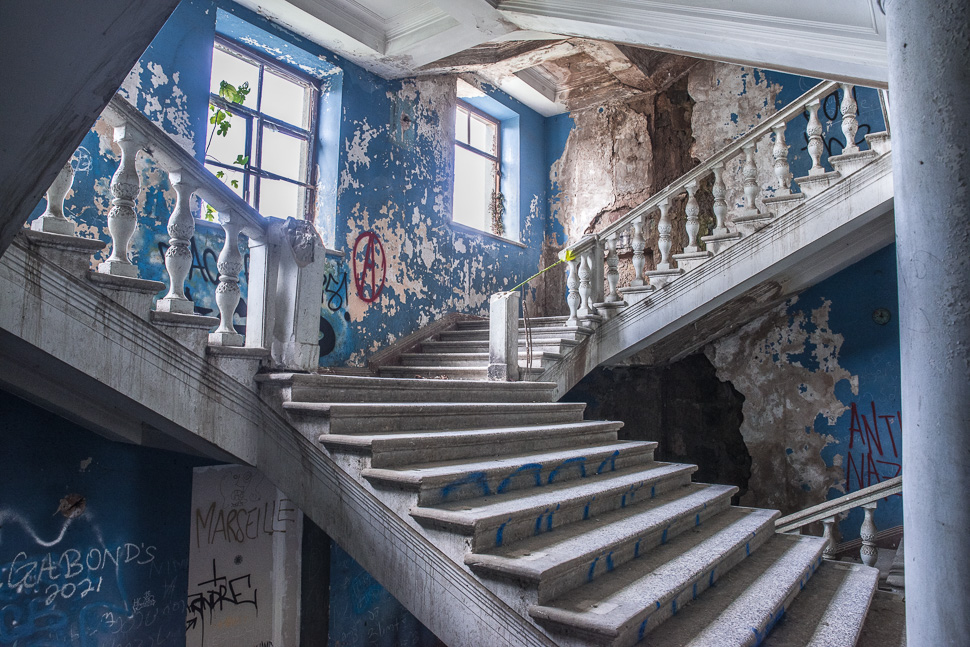 We had a great time exploring Tsqaltubo and the Grand Hotels we were able to see from inside. There are many more around the big park with its Spa buildings. Have a look at Red Fedora Diary for detailed information if you go there.
We are now looking for some nature at Okatse canyon, let's hope the weather cooperates. More on our next post!