When we saw the first sun rays coming through the fog in the early morning, we didn't wait any longer and left Mestia in direction of Ushguli. We knew we would only have today, as rain was predicted for the next day again. And if everything would go well, we wanted to continue over a pass of 2,600 metres and down to Lentekhi, 120 km mostly on a single dirt track and all that in one day? We wanted to try and see how far we would get.
Soon we were over the fog and had an incredible view of all the snow covered mountains around us. We continued up the valley and over a pass, until finally tarmac ended and we were making our way along the river Enguri on a muddy single track "road".
Even without rain, there was enough water and mud to make the track quite slippery, luckily we had no oncoming traffic, that wouldn't have been much fun with the abyss on one side and the rocks on the other.
We were climbing higher and higher, until we saw the sign for Ushguli at about 2,100 metres. It is actually a group of villages and partly protected by UNESCO World Heritage. In winter 200 people live here, with the road to Mestia impassable for long periods as snow covers the mountains for about 6 months.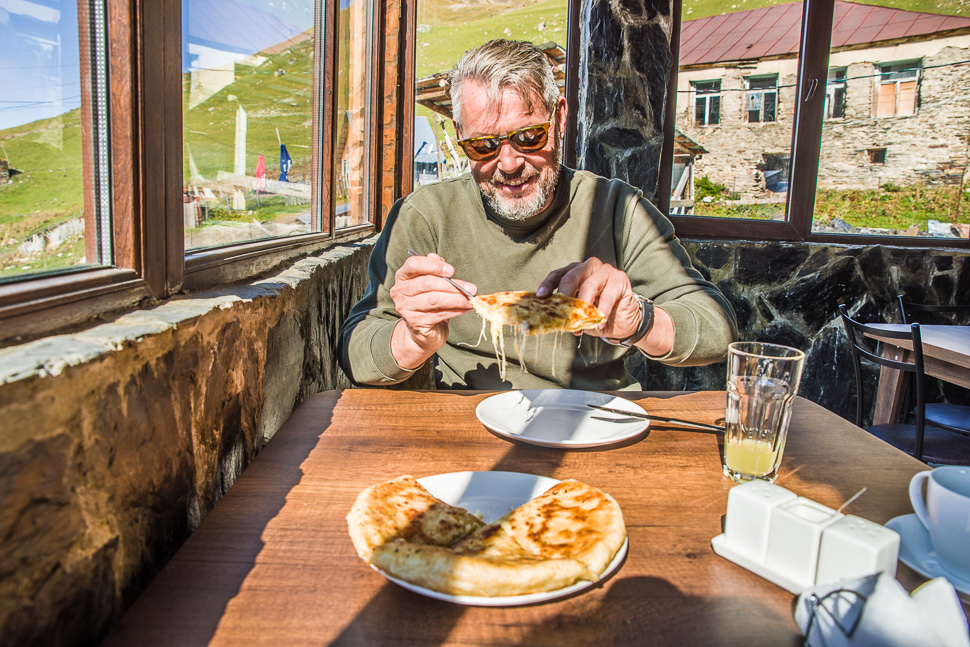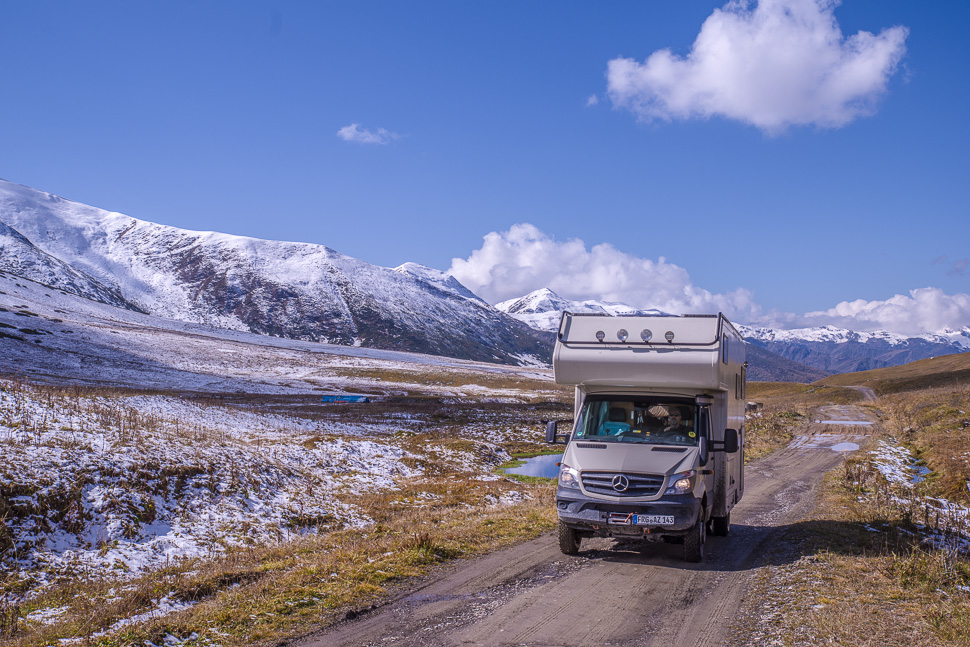 Finally we reached some tarmac and the first villages in the valley – we did it! It took us in total 8 hours to get from Mestia to Lentekhi with a couple of breaks along the way.
We had left Mestia with a nearly empty water tank, which we could fill up now, after we had crossed all those mountains. We finally found a stream next to the road which looked clear enough and used the filters to make sure we don't get too much sediment into our tank.
We had such a great day, with perfect weather so that we truly could enjoy the amazing scenery of the Great Caucasus. What an impressive landscape with all that snow at the peaks and the autumn coloured forest in the valleys.
We were happy we had managed the road. It was a challenge for sure and Edi did a great job getting us up and down on this often very muddy track, which needed his full concentration all the time.
What comes next? First we have to digest the experience of that day somehow. But then we are heading in direction of Kutaisi – more on our next post!