In Spanish restaurants you will often find, that you can choose between fish or meat, that's it! Salads are always on offer, but usually some kind of meat or fish is a part of it. And when you order a bocadillo vegetal, it usually contains tuna, which doesn't help either. But of course, you will find vegetarian restaurants in bigger cities and there are Spanish dishes which are vegetarian.
Here are some of the things we like to eat in Spain:
Tostada con tomate
The first thing we do when we reach Spain, is stop at a bar next to a gas station and order tostada con tomato. It is just toasted bread with olive oil, salt and grated tomato. In every bar it is done slightly different, but it is an easy snack you will get everywhere.
Pimientos de Padrón
When I did the Camino de Santiago starting from Porto, we came past the little town of Padrón, and I just then realised, that the small green peppers come from this area.
They are a nice snack, roasted and salted, which you eat with your fingers. You can buy bags of these peppers at the supermarket and easily roast them yourself.
Tortilla de patatas
Not vegan, as there are a lot of eggs involved, but a nice snack if it is home made. The ones you get at the supermarket are a compromise. Besides of the classic tortilla with potatoes, eggs and maybe onions, you might find variations with spinach, artichokes, mushrooms and many more.
Parillada de verduras
This is just a plate of grilled vegetables, but can be a nice option for vegetarians. Different kind of vegetables are grilled nicely and thats it. Mostly nothing fancy is added but we like it.
Paella de verduras
There are some areas in Spain where rice is grown, the biggest is around Valencia, I would say. Here the famous paella comes from. The classic Paella Valenciana is made with meat and fish, but usually there is also a vegetarian version on offer.
If you want to make your own paella, you just need the rice, which has to be paella rice like "Bomba", and a sachet of paella spices.
Coca
Cocas look like little pizzas, but it is a different dough. You get them in bakeries and some restaurants, but mostly it is something people make at home. The topping often is onions, peas, peppers, but of course there might be fish or meat on top too.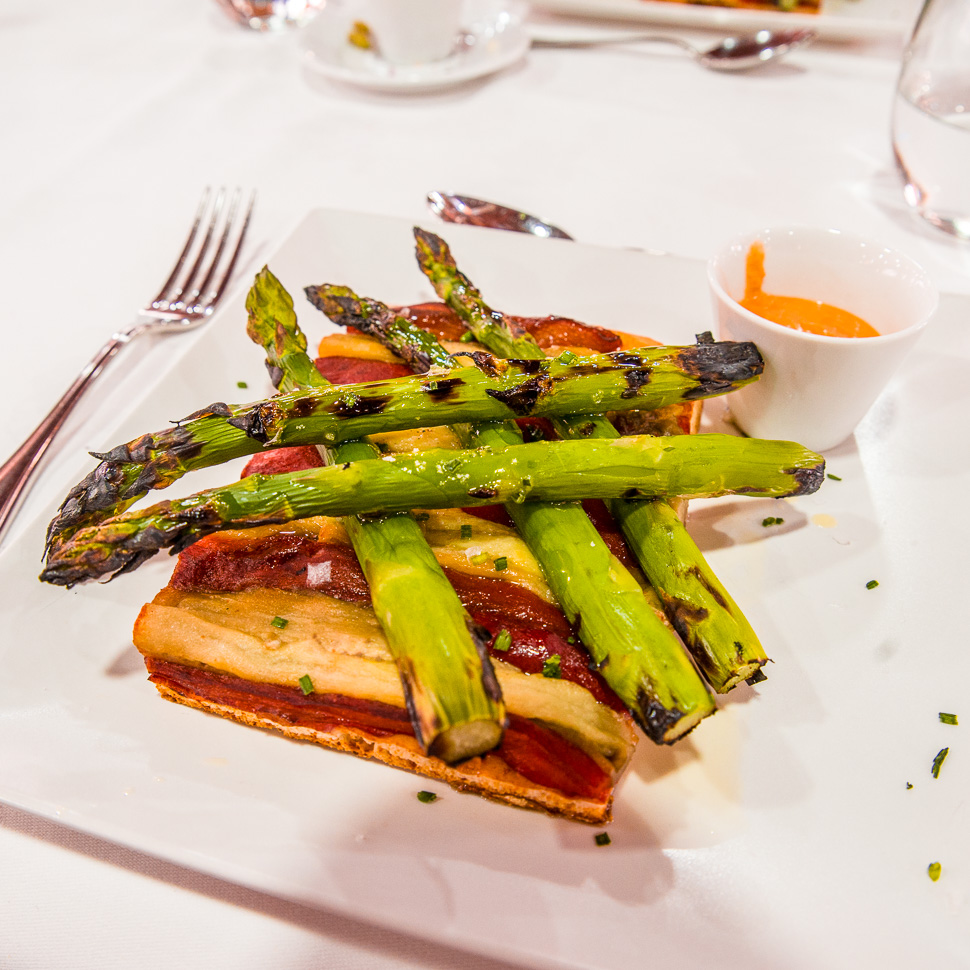 Pisto
Pisto is made of tomatoes, onions, eggplant or courgettes, green and red peppers, and olive oil. It resembles ratatouille and is usually served warm as a starter or to accompany another dish. It is also used as the filling for pasties and tartlets (empanadillas).
Gazpacho and Salmorejo
Gazpacho is a cold soup made of raw, blended vegetables. It is only available in summer, as it is refreshing and cool. You can buy it in the supermarket, but that's nothing compared to a good freshly prepared gazpacho.
Salmorejo is similar, made of tomato, bread, garlic and olive oil, usually garnished with ham.
Dulce de Membrillo
Thats a quince cheese, a sweet, reddish paste made of the quince fruit. It is a common confection in Spain perfect to accompany cheese. You will find it in every supermarket.
Churros
Not a fiesta without a Churros stall! You will get this fried dough as churros – thin and sometimes knotted strands, or porras, thicker strands. Cinnamon sugar is often sprinkled on top. They are also eaten for breakfast dipped in thick hot chocolate or café con leche (Milk coffee).
Horchata
Horchata is a milk like drink made from soaked, ground, and sweetened tiger nuts, which are grown in the region of Valencia. The only way you should try it, is very cold, like a granizado. Thats why you often get it at ice cream shops, but you can also buy it at the supermarket and put it in the freezer for a while.
Cava
Spanish cava is a sparkling wine produced using the champagne method. It is really delicious and the price for a good bottle of cava is incredible. Cava is produced in a couple of wine regions in Spain, the most famous comes from the Penedés near Barcelona. We always stop at San Sadurní d'Anoia, where some of the most famous producers have their cellars like Freixenet, Codorníu and Gramona. If you ever go there, don't miss to visit the cellars of Cordorníu with its Modernismo buildings and a little train which takes you through the endless cellar. But just of the exit from the highway you can find a smaller producer called Caves Ventura Soler, where we always stop to stock up on cava.
Vichy Catalan
Just sparkling mineral water, but Vichy Catalan has a kind of cult status. It tastes a little bit salty and comes in beautiful glas bottles.
Spices
Spain is famous for the use of a lot of garlic. Another typical spice is saffron, which is grown in Spain since the Moors brought it here. Saffron is used in paella, for example.
The spice we just discovered is Pimentón de La Vera. It's an intensely smoky paprika, which is so much more than normal paprika. We bought it also in flakes, which we sprinkle over young cheese and it just tastes incredible.
Another pepper you see a lot is Ñora – a red, round pepper of the "ball variety", which is normally dried in the sun and used ground in countless dishes, giving it a distinctive color and flavor- a little sweet with an intense aroma, but without being spicy.
Of course there are many more vegetarian treats to discover in Spain!
The best thing is to try it yourselves. We are always happy when we discover a restaurant, which includes delicious vegetarian dishes in their menus.
After 2 month in Spain we are now on the way to France, where we want to stop at the Provence. More on our next post!