We left our car and took a plane! Leaving our car felt a bit strange, but what we had planned sounded very exciting, so we did it. First, we were flying to Mafia, an island south of Dar es Salaam famous for the whale sharks and the Marine Park with its coral reef.
We got on a small plane for the 30min flight to Mafia, which was already a nice experience, flying in one of this small planes, sitting directly behind the pilot. We were picked up with a tuk-tuk and drove over a very bad road, sometimes helping to push the tuk-tuk through deep sand. We stayed at Afro Whale Shark Safaris, which organise snorkelling trips around Mafia.
We went snorkelling into the Marine Park, paying an entrance fee, and going snorkelling around a fascinating reef with so many different colourful fish and even a turtle! We will make a video of all the fish soon. Our guide went into the water with us and pointed out things we otherwise would have missed like Scorpion fish and octopus.
For lunch we stopped at a sandbank, where they set up a shade for us and started to grill fish next to a fire made with coconut shells. The grilled fish was served with salad and chapati. Very delicious!!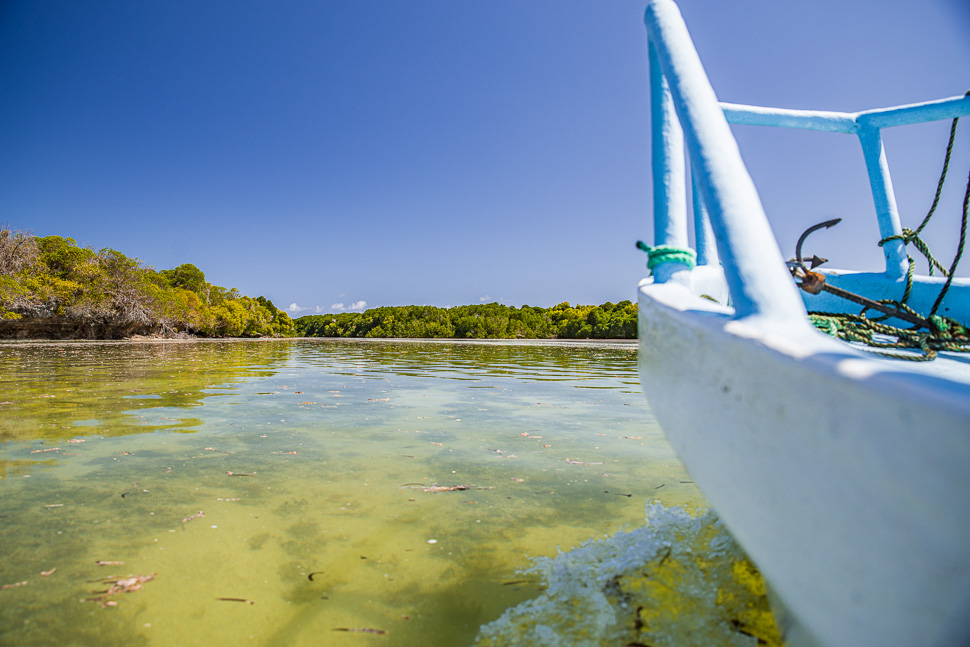 In the afternoon we went around Chole island to go to a lagoon. Driving through the mangrove forest was already interesting with many birds sitting in the trees. After a short walk over the island, we found the salt water lagoon, which fills up during high tide.
The floor of the lagoon is full of beige jelly fish, which don't sting and just lie on the ground, also fish make their way into the lagoon through same gaps in the rocks.
But the reason for coming to Mafia are of course the Whale Sharks, which we will explore by swimming with them – more on the next post!