With Matera we had reached the region of Basilicata. The town lies above a canyon carved by a river. The part known as la città sotterranea ("the underground city") is a complex of cave dwellings carved into the ancient river canyon. From the other side of the canyon we had a great view over the town.
The cathedral was built in the Apulian Romanesque style in the 13th century on the ridge that forms the highest point of the city of Matera.  Much of the interior received a Baroque-style decoration in the 17th and 18th century, including gilded stuccoes and frames. On the left stands the 52 metres high campanile, a landmark from every side.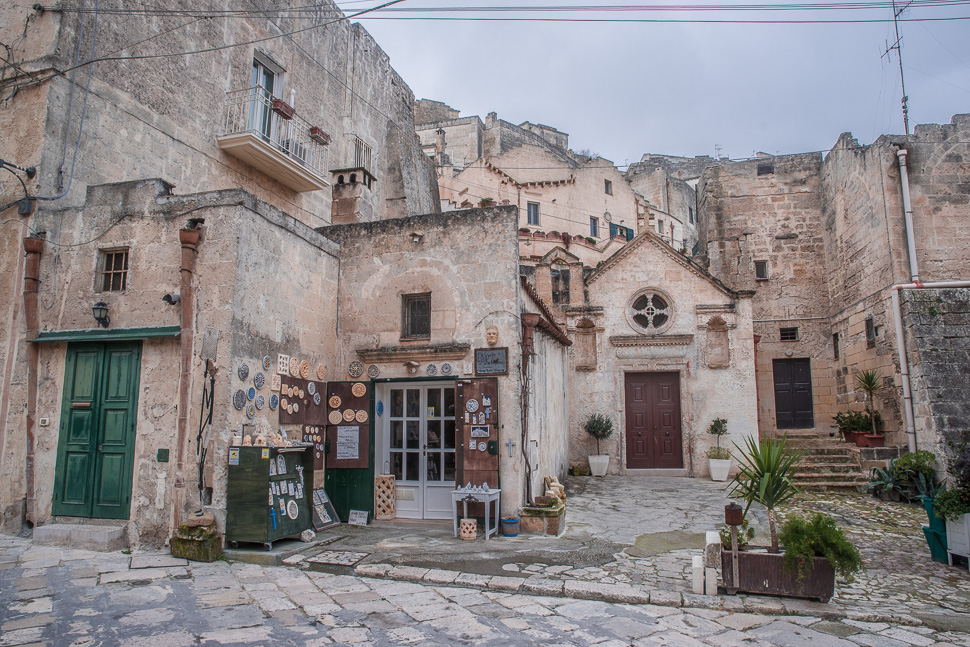 By the late 1800s, Matera's cave dwellings, called Sassi, became noted for intractable poverty, poor sanitation, meager working conditions, and rampant disease. Evacuated in 1952, the population was relocated to modern housing, and the Sassi (Italian for "stones") lay abandoned until the 1980s.
Today the cave dwellings are of great touristic interest, with hotels, small museums, restaurants and an arts community. At this time of the year a lot is closed, but there were other tourists wandering the streets of the Sassi.
The family lived and slept in one room, all the animals in the next room. There was access to a cistern for water and a big pipe, which led outside into the canyon, was used as toilet.
We found a bar/ristorante, where we had some pasta and wine and could warm up, as it was already very cold and windy outside.
After our visit to Matera, we drove down to the coast, stopping at Tavole Palatine, the remains of a Greek temple of the sixth century BC, dedicated to the goddess Hera. The temple was part of a countryside sanctuary near Metapontum, once an important city of Magna Graecia.
We will follow the coast in direction of Rossano now, where we are looking for a very old book – more on our next post!