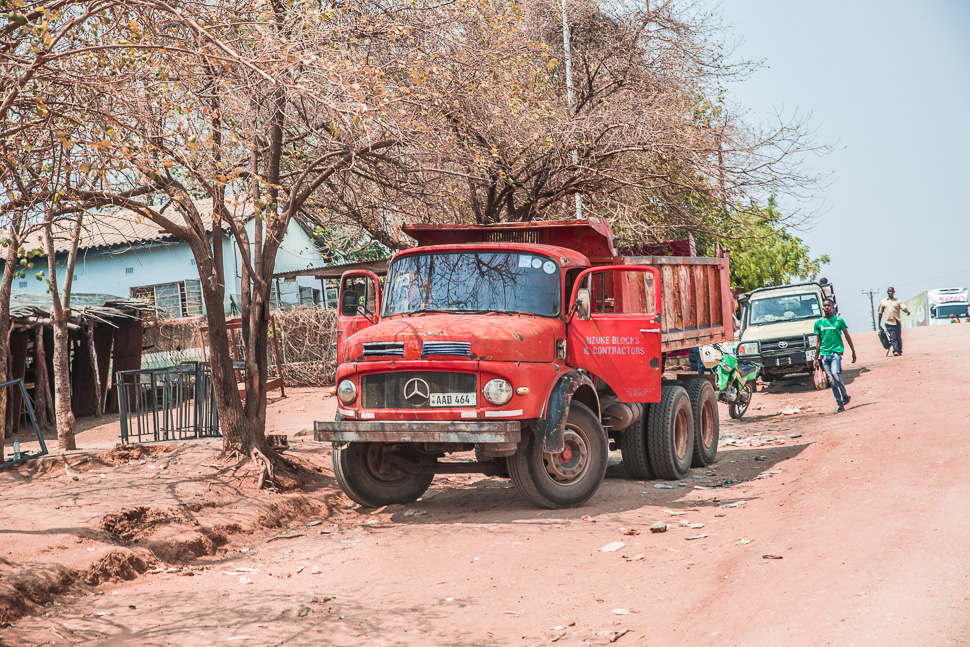 From Chirundu, the border post to Zimbabwe in the South, we made our way past Lusaka to the north, until we reached Mkushi, were we want to visit friends we made in Namibia.
From Chirundu the road leads up the escarpment, which is a challenge for many trucks going up or down alike. This road was dotted with trucks having technical problems.
Back in Lusaka we drove through down town to get to a mall, where we hoped to find some road maps for the countries we are going next, but no luck.
We made it past Lusaka including shopping in one day, but stopped at the Fringilla Farm 50 km further north, famous for its pies and sausages, which we tried for dinner. After spending the night at their camp ground, we took a walk to find the marabou storks we had heard about and were not disappointed. We saw at least 200 of this big scavengers with a wingspan of 3.20 metres just sitting in the fields behind the farm, probably waiting for what is left for them after slaughter.
The next day we continued on the road to the North, stopping at the famous Fig Tree Coffeeshop, where we had a nice lunch in the shady garden.
Before we finally reached the farm of Hugo and Linde, we had to stop for another night at Forest Inn, but finally we drove the last hour through farm land to get to Shigu Farm.
They provide a campsite on their farm, which is highly recommended. It is such a lovely spot at a dam, with a lapa and fireplace, braai and ablutions – all built with love.
From the lapa overlooking the lake, we could watch many birds like pied kingfishers, African Fish Eagle, swallows and Yellow-billed ducks, but also a family of Egyptian Geese with 7 little ones lives there.
Hugo took us on a tour around the farm, where they grow wheat, corn and other crops on huge circular fields, but also macadamia nuts.
For us, it was highly interesting to visit such a big farm and learn a little bit about farming in Zambia. If you are looking for a lovely place to rewind – their campsite is just the place for it! (You will find Shigu Farm on Ioverlander south of Mkushi)
We are now continuing our journey through Zambia, with waterfalls, wetlands and bats coming up – more on the following posts!