We had reached the Bukovina, east of the Carpathians. It was once an administrative division of the Habsburg Monarchy. For us as Austrians, it is fascinating, how far the Austrian monarchy extended. Very special are the churches of this region, not only for their shape, but especially for their painted exterior.
The church of Saint George at the Voroneț monastery was built in 1488, the outside was painted in 1547. It is famous for its exterior frescoes of bright and intense colours, and for the hundreds of well-preserved figures placed against the blue background.
The roads were very good throughout Romania, we just got into a roadwork on our way to the next monastery.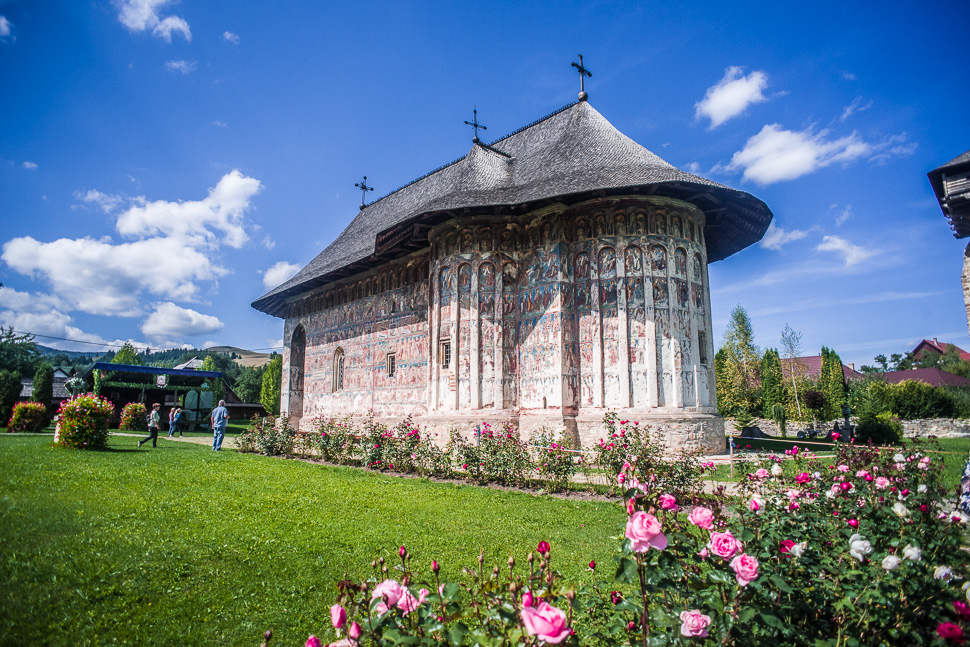 Humor was one of the first of these monasteries to be frescoed and, along with Voroneţ, is probably the best preserved. The dominant colour of the frescoes is a reddish brown, painted in 1535. The Humor monastery was closed in 1786 and was not reopened until 1990. We were fascinated, that these churches had outlasted this long time of neglect.
The Arbore Church, another Romanian Orthodox monastery church in Arbore, was built in 1502 by Luca Arbore, and dedicated to the Beheading of St. John the Baptist. It is another one of the eight buildings that make up the churches of Moldavia, which we visited.
Three impressive churches in one day was enough for us. But we didn't escape them for long, as we spent our last night in Romania in front of another monastery, this time a new one.
We are now on the way to Moldova – more on our next post!