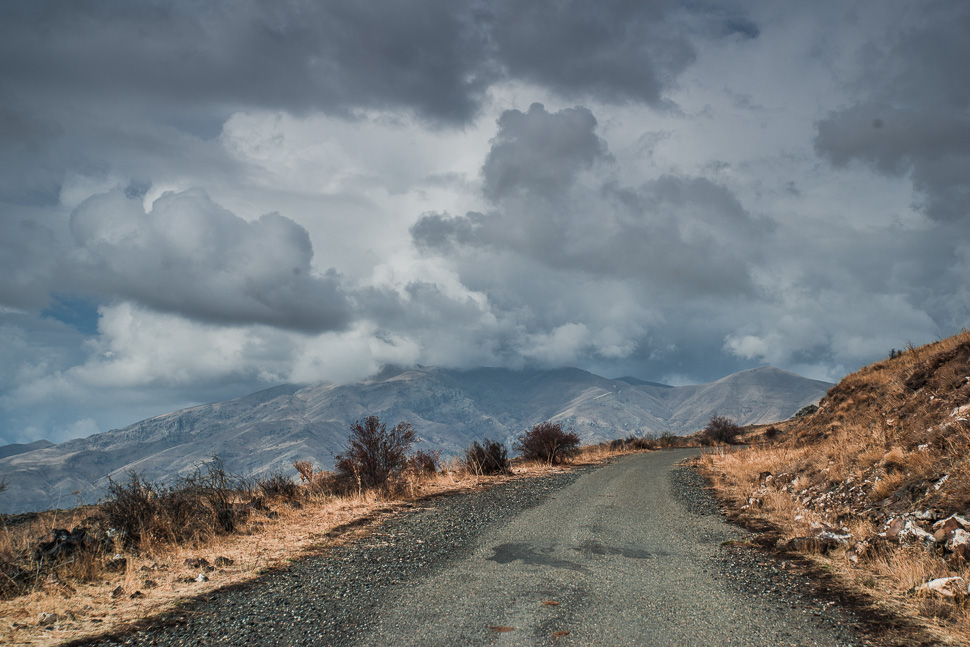 We had discovered a volcano, where a road leads up. The question was, how far we would be able to drive, and how much we would have to walk. Even as the day had started very sunny, in the afternoon clouds came again, but that didn't stop us from executing our plan.
The road starts in the village Malishka, and the first 10 kilometres was perfect tarmac, then it turned into gravel, but was still no problem to drive. When we got closer to the top of Vayots Sar, we turned into a path and finally stopped (39.789530, 45.473063). We noticed dark clouds closing in, so we packed rain gear and headed off on our hike up to the caldera.
From where we had left the car, it was about 1 hour walk. With a small 4×4 you can actually drive all the way up and into the caldera, where a picknick area offers some shade in summer. The Armenias like to drive everywhere we had noticed.
When we returned to our car, it was already hailing. We were happy to be home and able to dry off and get warm again. The shepherds, which were walking around with their flock of sheep, were not so lucky. We decided to spend the night up in the mountains. In the morning the sky was clear and Mount Ararat appeared in front of us.
We had such a great view of Mount Ararat with it 2 peaks, we were mesmerised. The snow-capped dormant volcano consists of two major volcanic cones: Greater Ararat, which is the highest peak in Turkey and the Armenian Highland with an elevation of 5,137 m. Little Ararat's at the left with an elevation of 3,896 m.
Just around the corner of Vayots Sar lies a Spa town in a beautiful valley. Lets see what we can explore there on our next post!