From Tatvan a good road leads up to the big crater of a volcano, and we went to explore it a bit. But we also found an incredible cemetery a little bit further north.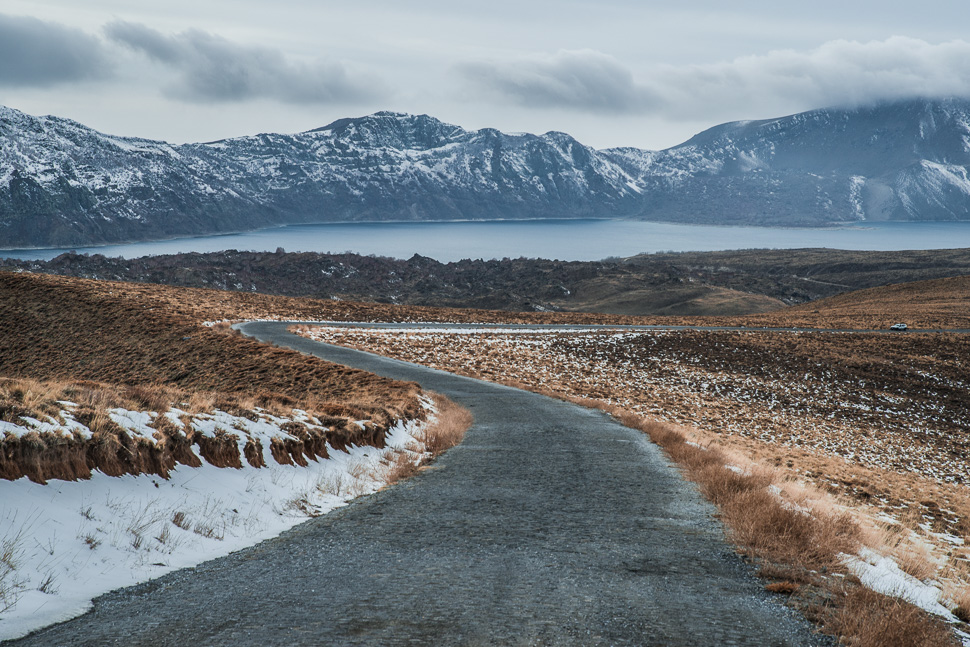 The road took us up the mountain, past a chairlift for skiing in winter and to the rim at about 2500 metres. Afterwards it leads down into the crater until you reach the lakes inside.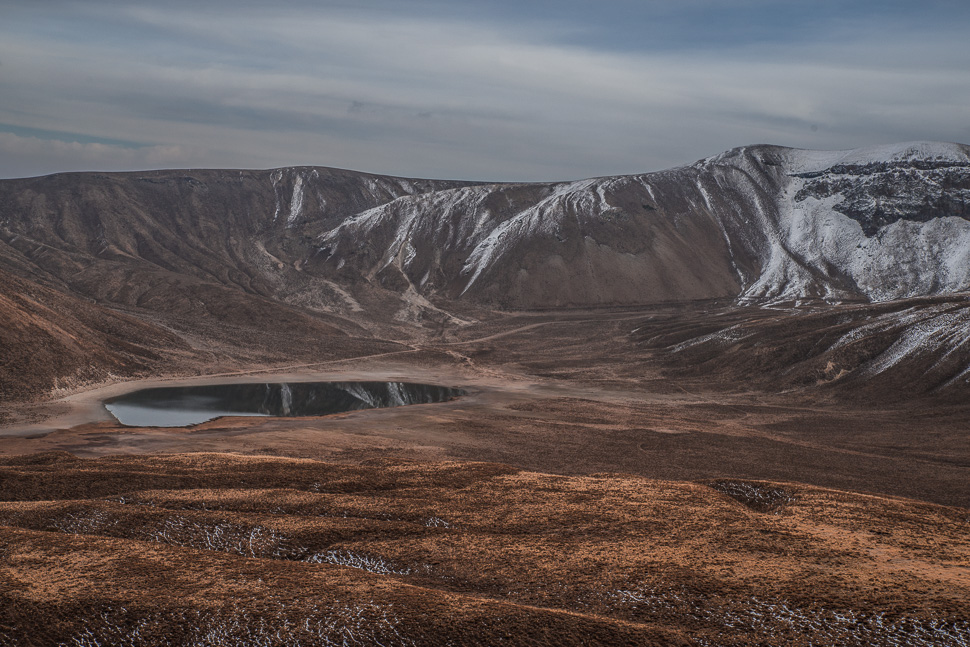 Along with three other extinct volcanoes of eastern Turkey: Ararat, Tendürek and Süphan, Nemrut is located in the area of a complex fault, which runs along the boundary of the Arabian and Eurasian plates in the territory of the Armenian Highland. Nemrut is the westernmost of these volcanoes, the only one that remains active, and generally the only volcano in Anatolia, which erupted in the historical period.
The caldera of Nemrut is the largest in Turkey, the fourth-largest in Europe and sixteenth-largest in the world.
It was getting dark and we decided to park at the rim of the crater, from where we could see Lake Van and the crater. During the night it started to snow and the next morning everything was white.
We had no problems driving down, leaving the white clouds and the snow. We wanted to explore a unique Medieval cemetery at the town of Ahlat, a little bit further north at the shore of Lake Van.
The tombstones are from the 12th – 15th century, the era of the Shah-Armens, Ayyubid dynasty, the Mongol and the Safavid eras.
The cemetery has more than 8,000 monumental stones with or without inscriptions made of volcanic red stone from the area. Some 1,500 of them are in perfect condition.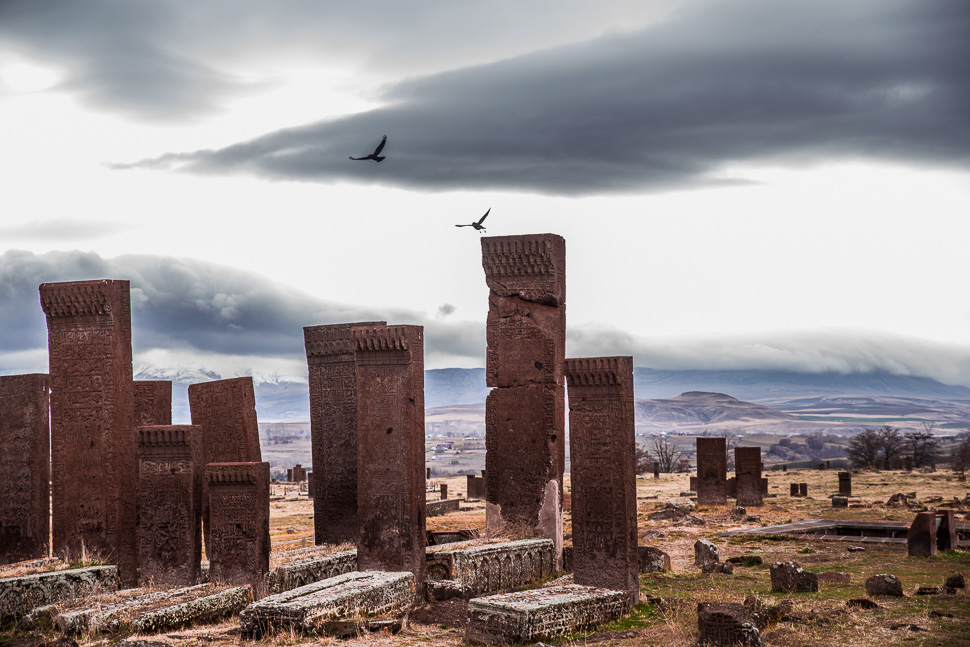 Engraved with intricate geometric patterns, bands of Kufic lettering and floral motifs, the sarcophagi and tombstones state the name of the dead person, the one who built the grave and verses from the Koran.
When we arrived back at the parking we had a flat tire. As the cap of the valve was lying nearby, it was clear somebody was so funny to let the air out. As we have a compressor, it was no problem to fill the tire again.
It turned out, that there are security cameras at the parking and the guards had already arrested the youngsters who were responsible for the flat tire.
We drove down to Batman, having a difference of nearly 2000 metres between the crater and the town to the south-east, which also brought us an increase in temperature, which was very welcome.
In Batman, a modern town with no tourist sights, we stopped at a big restaurant, where we had a great evening with a very attentive service and good food.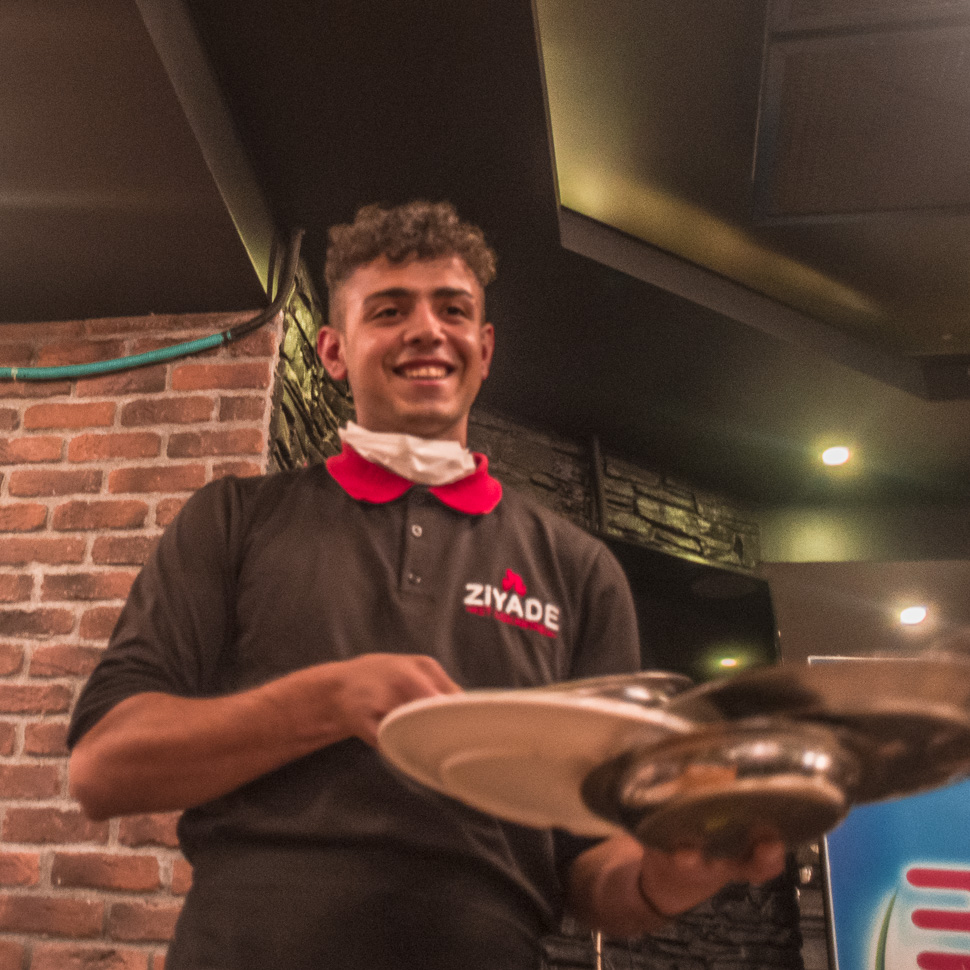 Tomorrow we will reach the river Tigris and the town of Hasankeyf, which just recently disappeared in the water of a reservoir. More on our next post!