How to visit an archeological site during lockdown? By flying over it! We got a spectacular view of Ancient Messene, explored the once 9km long city wall, came past a Y shaped ancient bridge and a 1000 year old tiny church, covered with big trees. The day ended with an adrenalin rush when we traversed a village with a most dangerous balcony. We have our experience with this kind of threat.
From the North, the city was entered through the Arcadian Gate, from where the road still leads through this circular gate. The gate had a lintel of a single, massive beam of limestone, which still leans there. A very impressive trace of the ancient Greeks.
Messene was surrounded by a 9 km long circular wall, which was 7 – 9 metres high. It was fortified by 30 square or horseshoe-shaped guard towers (and probably barracks) with doors admitting passage to a protected walkway on top of the wall. The huge stone blocks are stacked up without mortar. It is one of the best preserved city walls of Greece and really impressive.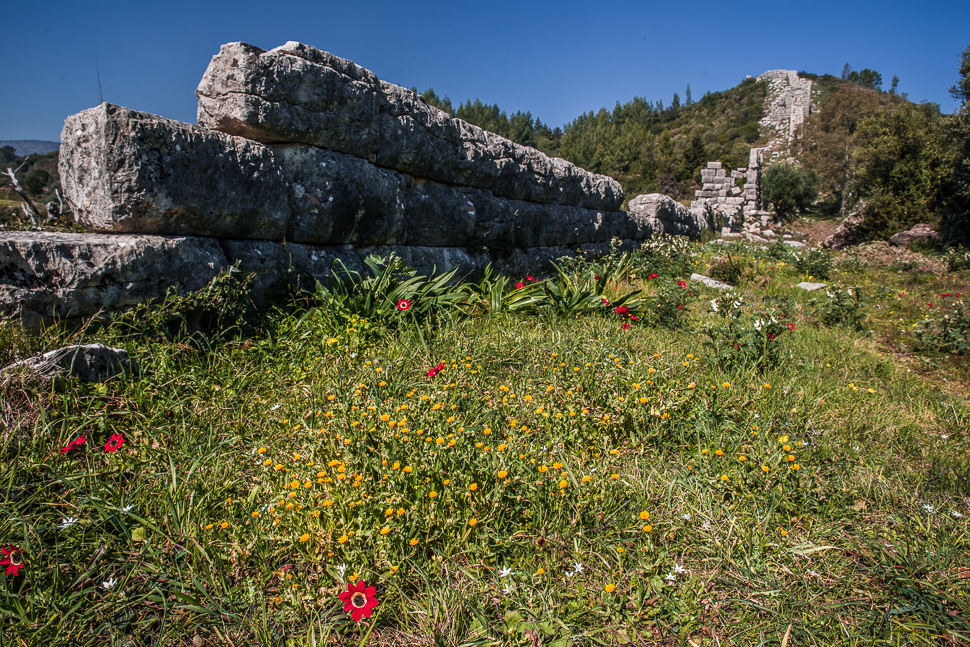 The Mavrozoúmena Bridge is in parts 2300 years old and has a unusual Y shape, as it stands at the confluence of 2 rivers. In every period of history it was extended and renovated as it crosses the river on the way between Messene and Megalópolis.
After a couple of narrow villages we finally reached the church of Agia Theodora, a saint around whom there are many legends. The 1000 year old church has 17 big trees growing on its roof.
No roots can be seen on the outside walls of the church. Nowhere are logs pushing through the masonry. It looks as if the trees are growing straight out of the shingles of the roof without contact with nourishing soil and water.
Just a short walk down the river lies a restaurant, which has a working flour mill powered by a little river. The owners showed us around and we could buy some wholemeal flower fresh from the millstone.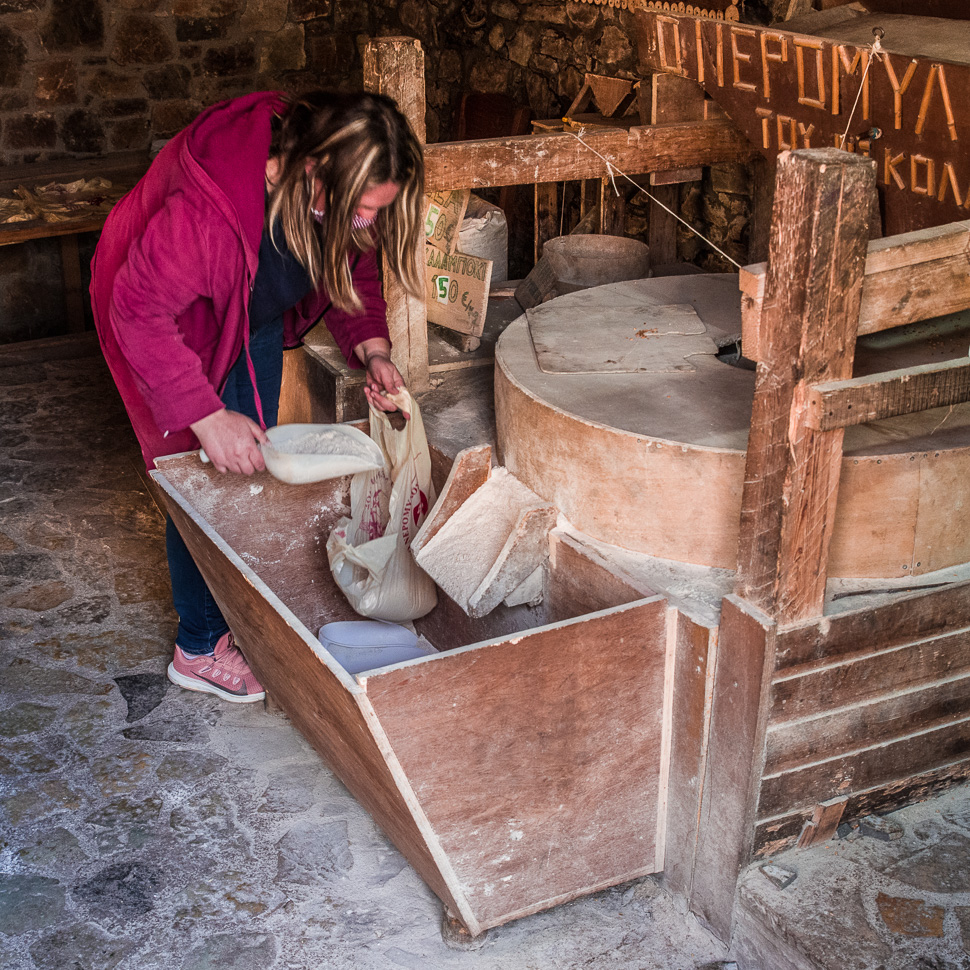 On the way to our next destination, we drove on very good roads through the mountains, but as soon as a village appears, we start to get anxious. In this one all our fears came true: a narrow road, a steep descent on one side, and a very low balcony on the other side. There were a mere couple of centimetres left between our branch deflector and the rusty balcony. Luckily our satellite dish is in the middle, otherwise we would have been stuck.
This time we made it undamaged through this village. More than a year ago, we were not that lucky. Look at our post Crash Test, to read about our little accident.
Tomorrow we will explore the famous Neda gorge and its beautiful waterfalls. More on our next post!