Continuing our route south, at first the weather wasn't really convincing that we were driving in the right direction. But later we finally came into a warmer region. We decided to take a little detour and stop at a prehistoric site, famous for its life-size rock carvings.
It was snowing in beautiful fluffy flakes and I was close to putting Christmas songs on. For sure when we will be back in Austria around Christmas we will not have any snow at all.
The weather got better and we reached Bølareinen, the reindeer site North of Steinkjer (64.146500, 11.946025). From the parking it is just a short walk to the famous rock carvings but we decided to take a longer hike which took us through a semi frozen bog and nice forest.
The forest was covered with blueberry and lingonberry shrubs, some still carrying the delicious but already semi-frozen fruits, a cold treat.
The rock carvings at Bøla date from the Neolithic Age and are therefore among the oldest rock art in Northern Norway. Their height above sea level indicates that their maximum age is around 6000 years. A characteristic of the images on the Bøla River is that most of them are life-size. Around 30 drawings of birds and other animals have been found. The 180 cm long and 136 cm high reindeer from Bøla (Norwegian Bølareinen), probably a reindeer cow, is one of the most famous rock carvings in Norway.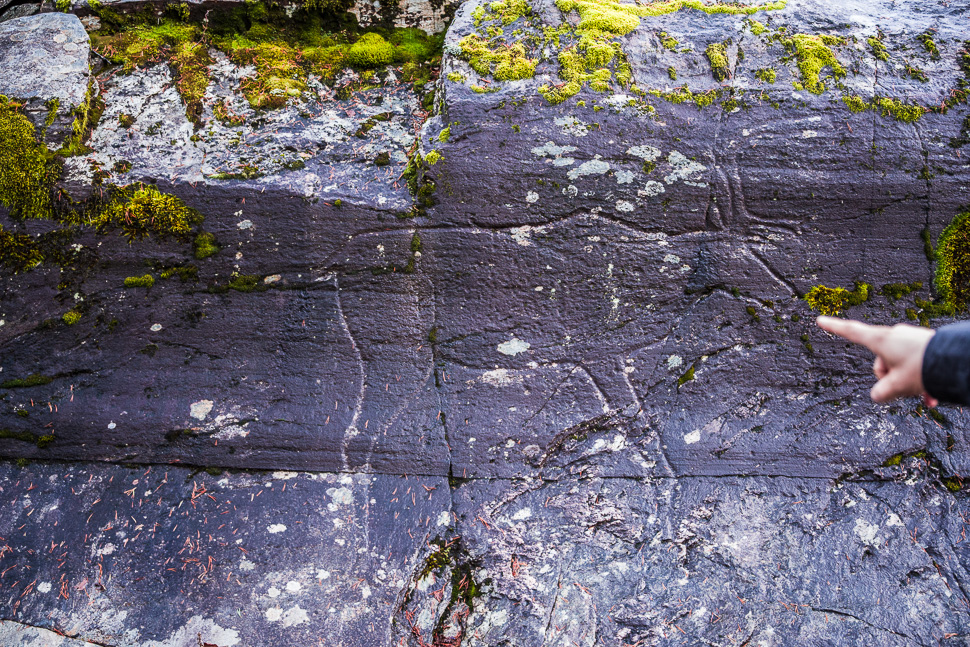 The size of the carving was fascinating, but it was the only one we could make out at that site. We had seen a lot of other rock carvings at Alta, which is a much bigger site and well presented. Have a look at our visit to Alta.
Soon we will reach Trondheim, a fascinating city, but more on our next post!