We had spent the night in the centre of Chişinău so that in the morning it was only a short walk to the Central Market. This huge open-air market occupies several blocks. From fresh fruit and vegetables, dried nuts, honey, fish, meat, bread, wine and brandy to clothing and household items, you can find almost anything you need. Most products are local and the prices are very good.
We had decided to buy the ingredients for Shakshuka: onions, tomatoes, red peppers, eggs and cheese. Of course we found everything we needed in abundance.
The offer of fresh, natural products directly from the producers was just incredible. I think we can call us poor concerning what we get offered in our supermarkets in Central Europe compared to that variety and freshness. Every cook must feel blessed to be able to get his ingredients at such a market – we loved it!
In Cricova we had booked a visit to the famous winery, where we got on a little train, to explore some of the extensive cellar which has 120km of corridors. Already since the 15th century a limestone mine existed here, which was used to build Chişinău. Until today, some parts are still used to cut limestone for construction, but since the 1950s 80km of underground passages are used for the Cricova winery as their immense cellar. There are also production and storage facilities underground as well as richly decorated tasting rooms and of course a wine shop where every tour ends. The estate has 500ha of wine around town and is the most well known producer in Moldova.
Legend has it that in 1966 cosmonaut Yuri Gagarin entered the cellars, re-emerging (with assistance) two days later. Russian president Vladimir Putin celebrated his 50th birthday here.
The "Grand Cellars of Cricova" house a huge collection of wines, The National Oenotec. The unique exhibits ("Jerusalem of Easter" vintage 1902, the liqueur "Jan Becher" vintage 1902) together with other 158 brands from Burgundy, Moselle, Tokay, the Rhine, are in the collection of the establishment as well as of Moldova in general, comprising nowadays a total of about 1.3 million bottles. Among those are the trophies of the Second World War, which include wines from the collection of Hermann Göring. After the Soviets seized his private wine collection, a part of it was transferred to Cricova.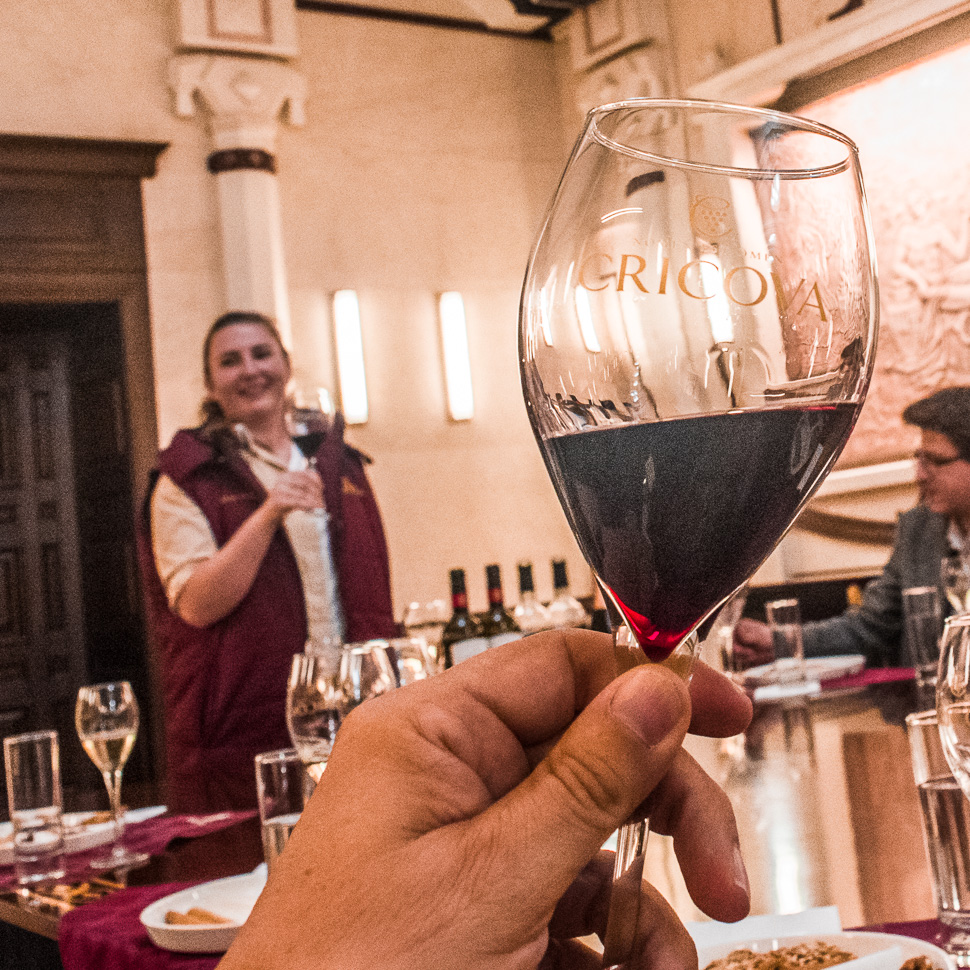 Previously Russia was the main importer of Moldovan wine, however this changed in 2014 when Russia imposed embargoes in retaliation for Moldova making moves towards joining the European Union.
We could taste 2 sparkling wines, a Chardonnay and a red cuvée, all very good. Of course we didn't leave the shop without a couple of bottles. You have to be well stocked for a long journey!
There is still a part of Moldova we wanted to visit: Transnistria, officially the Pridnestrovian Moldavian Republic (PMR). It is a breakaway state in the narrow strip of land between the river Dniester and the Ukrainian border that is internationally still recognized as part of Moldova. More on our next post!