From the Vashlovani National Park, we were now on our way to Tbilisi, but headed first to a desert like area with colourful mountains. They are also called rainbow mountains and are south-east of Tbilisi. We took a fascinating route through an endless valley, which got just a little bit too challenging for us.
In Dedoplistkaro – in the meantime I managed to memorise this name – we filled up water and diesel, went to the supermarket and of course to a bakery for fresh warm puri.
Georgian bread – puri, is traditionally baked in a deep circular clay oven called a tone. The long pointed bread is called shotis puri, and you can find small bakeries in every village. It is a great skill to place the dough inside the tone, slapping it onto the wall. When it's ready, just before it drops from the wall and into the fire, it is taken out with a hook and placed on a wooden rack too cool.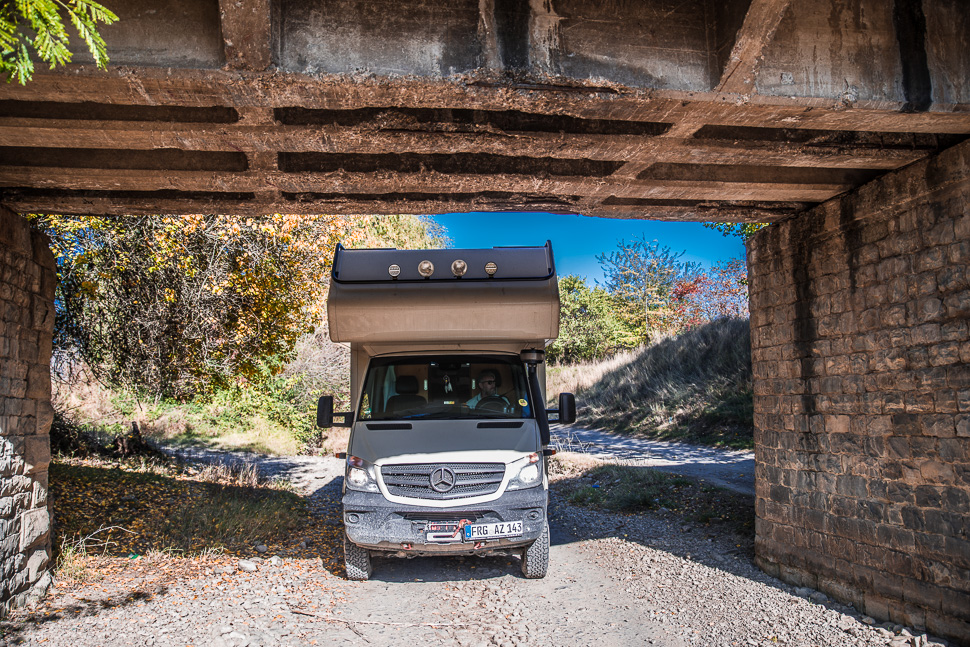 We drove to Udabno, which is the village before the Davit Gareja monasteries. From there a dirt road starts to the north-west, leading for 11 kilometres through an endless, empty valley. The track was not very bad, just that we had to cross a river canyon twice. The first time was easy, the second time the canyon was deeper and the track had a big step to get out of the river bed.
We had reached our limit as it looks like. When tackling the step to get out from the riverbed, we somehow forgot about our slope angle. It had not been any problem during our off-road adventures in the last month, so it was somehow not on our radar. Now, we are certainly aware again.
We were happy and a little bit shaken, when we reached our destination, the Mravaltskaro Reservoir and the rainbow mountains. (41.543370, 45.242101)
There is a hut at the lake, which belongs to some men, who come here to fish, hunt and have fun. We were invited to a "Georgian picknick" in the evening. Beside of Chacha (Georgian grappa) and wine, Khinkali (Georgian dumplings) were prepared. It was a fun night, which we paid for with a headache the next day.
The colourful mountains were really a sight we fell in love with. Especially when the sun is low, you can see the different colours along the hills. From the reservoir we walked over the dam and into the mountains on a small path created by sheep, into a spectacular landscape.
We will now leave the empty desert-like landscape and drive to the capital of Georgia. By the way: we found out, that it is easier to get to the colourful mountains coming from the other side, starting at Rustawi, but the drive through this long valley from Udabno was a great experience beside our little accident.
More about Tbilisi on our next post!