The weather forecast was good and we wanted to hike to a very special place at the coast, but on the way there were some more places we wanted to see and we managed to pack it all into one day.
Our first stop was at Sogndalsstrand, a little fishing village with old houses where we went for a walk.
Our next stop was the Ruggesteinen, a huge rock which you can get rocking if you push hard enough. There are signs of the main road which led us to a parking from where it was a short hike along an abandoned railway track. Also here the landscape was fascinating.
We continued south descending into a steep valley until we reached Helleren, where historic buildings were built under the overhanging rock cliff. Both houses date back from the 1800s, however large parts of the buildings might be considerably older. Most probably, there has been a settlement under Helleren from the 1500s.
We continued our way to Åna-Sira, from where the hike to the Brufjell starts. (Parking: 58.281444 6.405250) First you walk through the village and then it goes up the mountains through a muddy forest until you reach the Brufjell peak overlooking the sea.
This peak had great views but we were soon on the way to our ultimate destination, the caves washed into the rocks by the sea during the Ice Age some 20.000 years ago.
Soon the climb down started, where we needed hands and knees to get down the steep cleft. Luckily cables and clamps were installed, but in some areas I wondered if they were placed for giants, as I often had difficulties to even reach them.
Finally we reached the level of the potholes, today about 20 metres above the sea. You can see clearly where the sea level once was .The horizontal potholes were created by the waves crashing permanently against the rocks.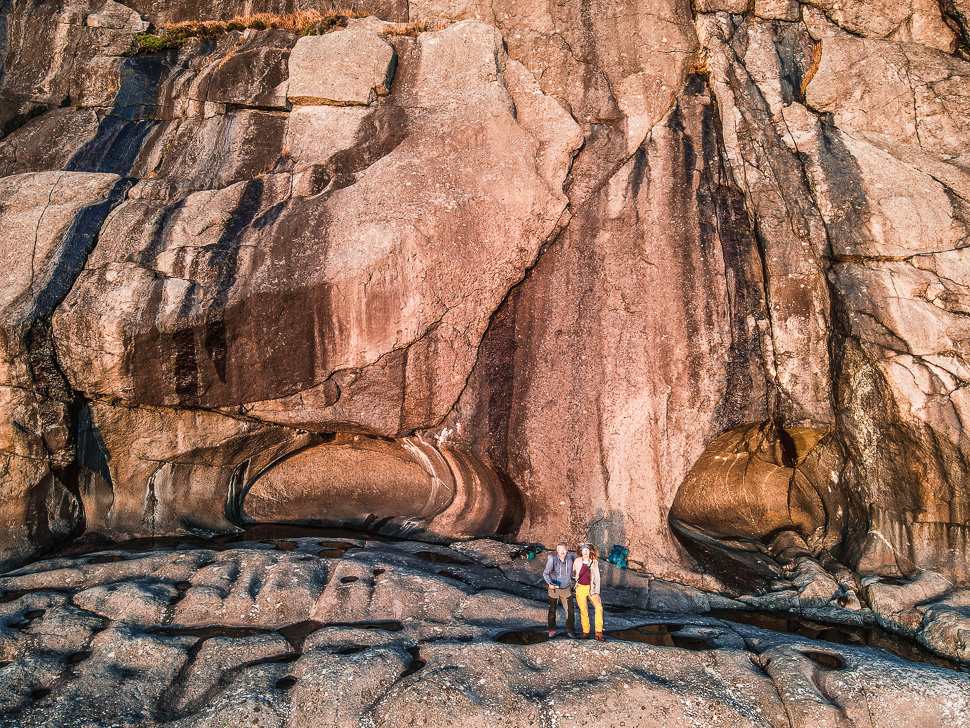 We were so happy we did this difficult hike and that we came here in the late afternoon with the sun already low over the sea. This is a place I will remember for ever, it was so breathtaking. The climb up was easier than down, but we had to hurry to get back over the mountain as the sun was setting very quickly. We didn't want to have to find our way in the dark on this steep path full of mud, stones and roots. We made it just in time.
Being quite exhausted we spent the night on the next parking and will be on the way to the most southern point of Norway tomorrow. More on our next post!