The place to see most of the animals were of course the waterholes. During the day we tried to go to as many waterholes as possible and at night we sat at the waterholes of the campsites. Halali and Okaukuejo have the best places to see many animals. In Halali we saw the lionesses, in Okaukuejo elephants and 13! rhinos at the same time.
A good way to learn more about the animals and to spot and identify, what you would otherwise miss, are the game drives, the campsites offer. We did a morning drive from Okaukuejo and spotted our first white rhino, spotted hyaenas which got chased by wildebeest and a lioness with 4 cubs.
When we came past this big group of elephants, clearly on the way to get somewhere, we studied the map, and found the waterhole they seemed to be heading to. We drove there and waited maybe 15 minutes, then, they appeared and we could watch them drinking, with the little ones between their legs, never getting squashed. When their thirst is stilled, they start with the mud, churning it with their feet and then spraying it over them with their trunk. Afterwards a layer of dust completed the ritual.
You are not allowed to leave your car in any circumstance, just at enclosed areas, installed for a picnic and with a toilet, so this picture was taken by our son, driving the second car with his girlfriend.
We were impressed by the number of elephants we could watch in the Etosha NP. Compared to Addo Elephant Park in South Africa, there are much bigger groups of elephants roaming in this huge park and it was a pleasure to watch them, but we also noticed some elephant bones and learned from our guide, that poaching is still a big problem.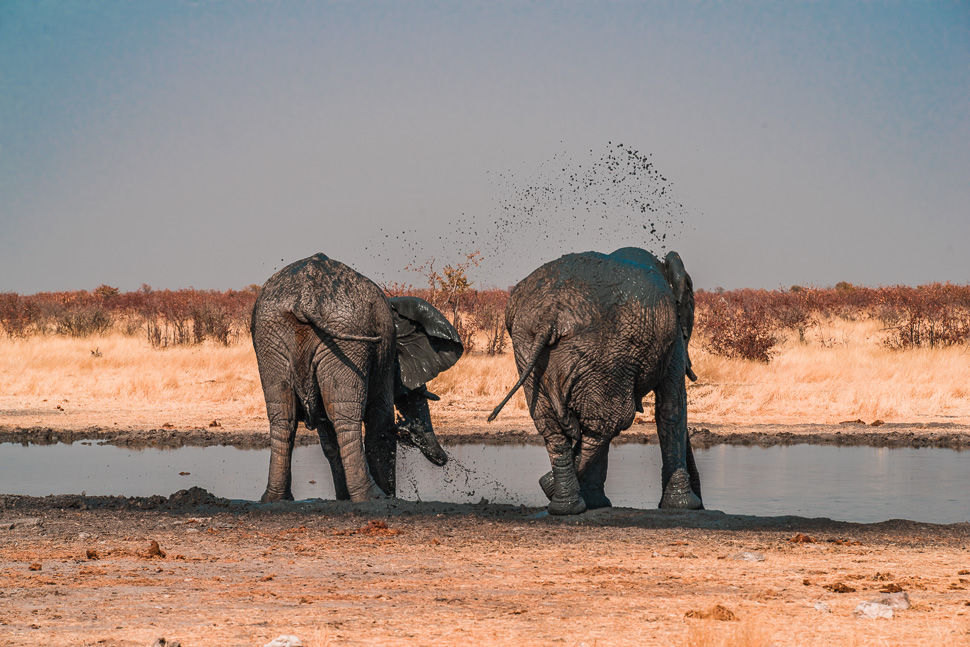 We were lucky, to come past 2 jackals, which were taking the remains of a springbok apart. Next to them the vultures waited already, obviously not allowed to get anything, before the jackals were satisfied. White-backed vultures were finally picking at the left overs, but a lappet-faced vulture was still waiting to be next.
Olifantsrus was our last campsite in Etosha and from there we left the park at Galton gate. On the way to Olifantsrus, we had some great waterholes, with lots of animals to watch and also on the way to the gate we had some incredible sightings of drinking giraffes.
The Etosha National Park is for sure a great place to see an unbelievable number of animals. We were really surprised and very happy that we saw so many and even lions and a cheetah. But we also appreciated the many different birds and smaller animals we noticed. You never know how many we might have missed just by driving past them.