We came to Windhoek twice up to now, always staying a couple of days, to get organised again, meet people and to pick up our son and his girlfriend from the airport of course. Windhoek might be a good city to live, but it is not very fascinating for tourists. The only beautiful building we discovered was the Christchurch.
We admired the train station, which is still in use but has the old signs hanging there. In the same building is a museum, but while we went there during opening hours, the responsible guy was missing and we couldn't visit it. Around the station we saw many old locomotives and other equipment exhibited.
We also visited the botanical garden, as a friend asked us to find out about Namibian trees. It makes a very untidy impression and was not very fascinating. You will see nicer plants travelling the country.
For Edi, we found a barber, which operates in a nice trailer not far from our campsite next to Nico's pub, but they have also a shop in town: Tatekulu
In Windhoek, we found a place to fill up our propane gas tank again, which isn't as easy as in Europe, as nobody drives cars with gas. The company is called "Gas it", which you will find on IOverlander. Pedro was very helpful and constructed an adapter for our system, which he gave us without any charge for further use.
Originally commissioned in 1914 by Count von Schwerin for his fiancé, Margarethe von Heinitz, this elegant castle is now a hotel and restaurant overlooking the town. Heinitzburg Castle is one of 3 castles in Windhoek, but Schwerinsburg Castle and Sanderburg Castle are not open to the public.
Our friend Werner, a fellow radio enthusiast, took us to Joe's Beer House, an institution every tourist visits, and brought us also to the Old Wheeler's Club, a private club for car enthusiasts, where their precious old cars are exhibited, but the club also has a restaurant, event room and library as well as workshops their members can rent. A very nice place with beautiful cars. More on another post: Old Wheelers Club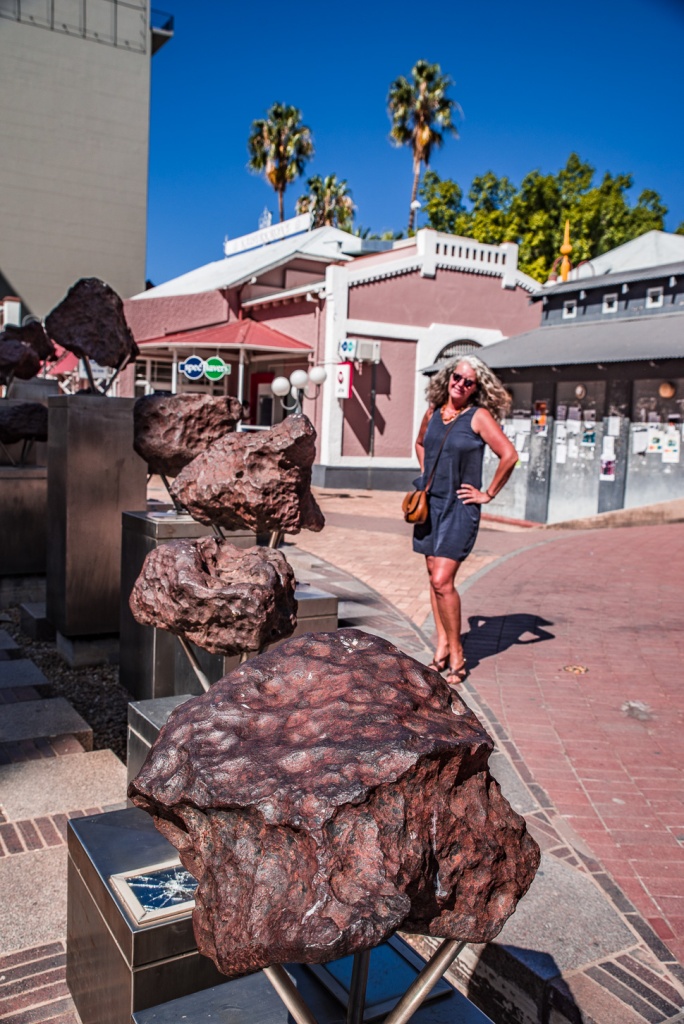 The largest known meteorite shower in the world occurred in Gibeon, in the south of Namibia. Over a 275 km long and 100 km wide area more than 150 parts were scattered, which reached the earth in prehistoric times. Mounted on steel columns are 31 of the original Gibeon meteorites, on display in the Post Street Mall in the centre of Windhoek.
While in Windhoek, we always stayed at the Arebbusch Lodge, which has a restaurant, laundry service, nice ablutions including a bath tub and enough space also for bigger cars next to the river with trees for shade. It is not expensive and the staff is very friendly and helpful. We will come again!
Next we will go to Swakopmund for the third time, as there are still some things left to do and from there travel north along the coast. More on our next post!