We arrived at Sesriem in the evening and checked in at the campsite of the NWR inside the national park. This gave us the opportunity to drive to Sossusvlei 1 hour earlier than everybody else, who came from outside the park. When at 6.30 the next morning the gate opened, there was already a queue of cars waiting to drive in. From Sesriem it is still a 60 km drive until you reach the end of the road, from where you can walk to Dead Vlei and to the big dunes like Bid Daddy and Big Mama.
We had decided to stop at the first dune with an access route to climb it before sunrise.
Sossusvlei literally translates to 'dead-end marsh', it's the place where dunes come together to prevent the Tsauchab River from flowing any further. Due to the dry conditions in the Namib Desert the river seldom flows this far and the pan remains bone-dry most years. Only during an exceptionally good rainy season will the Tsauchab River fill the pan to create a truly spectacular sight.
The last 5 km to the parking are deep sand, but no problem for a 4×4 with deflated tires. From the parking you can walk up one of the highest dunes in the world. Big Daddy is 350m high and gives you a great view over the endless sand dunes around it. From there you can make an easy descent into Dead Vlei. As the sand gets very hot during the day an early start is advisable.
As the water of the Tsauchab River doesn't reach this area any more, the camel-thorn trees are dead, therefore its called Dead Vlei.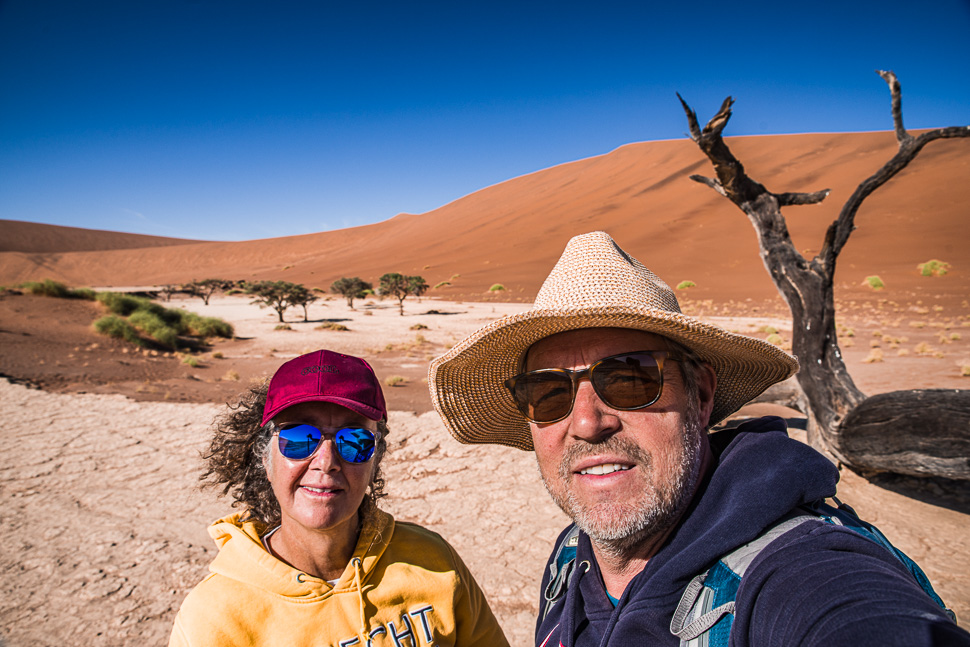 When we had enough sand in our shoes, we drove back to Sesriem, where the Tsauchab River has formed an incredible gorge, which you don't expect until you stand directly on the edge. A walk in the cool gorge was comfortable, while above it was already very hot.
Afterwards we relaxed in the shade at our campsite until we headed to another dune for sunset. Elim dune is just around the corner of the camping, but the hike to the top took a while. We had miscalculated the time we would need and didn't reach the top before sunset, but anyway it was a nice experience was this dune has a lot of green long gras growing in its slopes.
Tomorrow we will head to another part of the Namib Naukluft National Park, one that is famous for its mountains and rivers, with mountain zebras rooming the area – more on our next post!