After our time in Meteora, we were now on the road back home. First we came through the Macedonian provinces of Greece, then reached North Macedonia, where we stayed at a winery and visited the archeological site of Stobi. Afterwards we crossed Serbia and Hungary, where transit within 12 hours made us travel straight through and spending the night at a rest area. We finally crossed the border to Austria and were "home"!
We took a little detour, to get to this lovely lake, where we spent the night and relaxed a little, before the border crossing through the Balkan began. (Parking @ Zazari lake: 40.619519, 21.548580)
We would have liked to cross the border between Florina (Greece) and Bitola (North Macedonia) to visit this lovely town. The official information was, that the border is closed. We wanted to try it anyway, but on the way we talked to the Police and they inquired for us, telling us that we won't be able to cross the border. We had to go east and use the border at Gevgelija.
At Demir Kapija we stopped for the night at a winery, where sadly the restaurant was closed due to the lockdown, but we could buy some wine and had a peaceful night surrounded by peacocks. The next morning we drove to the gorge of the river Vardar, which is a bottle neck on the route to Greece. It is called Iron Gate (=Demir Kapija) and nowadays famous for rock climbing with many marked routes.
We were surprised when we found that the archeological site of Stobi was open, even during lockdown. Stobi was once a Roman provincial town and is the most important site in North Macedonia, with many impressive mosaics. I read that they are covered up during winter and not visible until May, but the works had already started and we could see some of the mosaics cleared from plastic sheets and sand.
We wanted to see something of the country, so we avoided the highway. We drove past lake Mladost, a favourite summer destination for the people of Veles. Afterwards we managed to drive along a minor road which looked very bad in parts but in the end led us back to civilisation.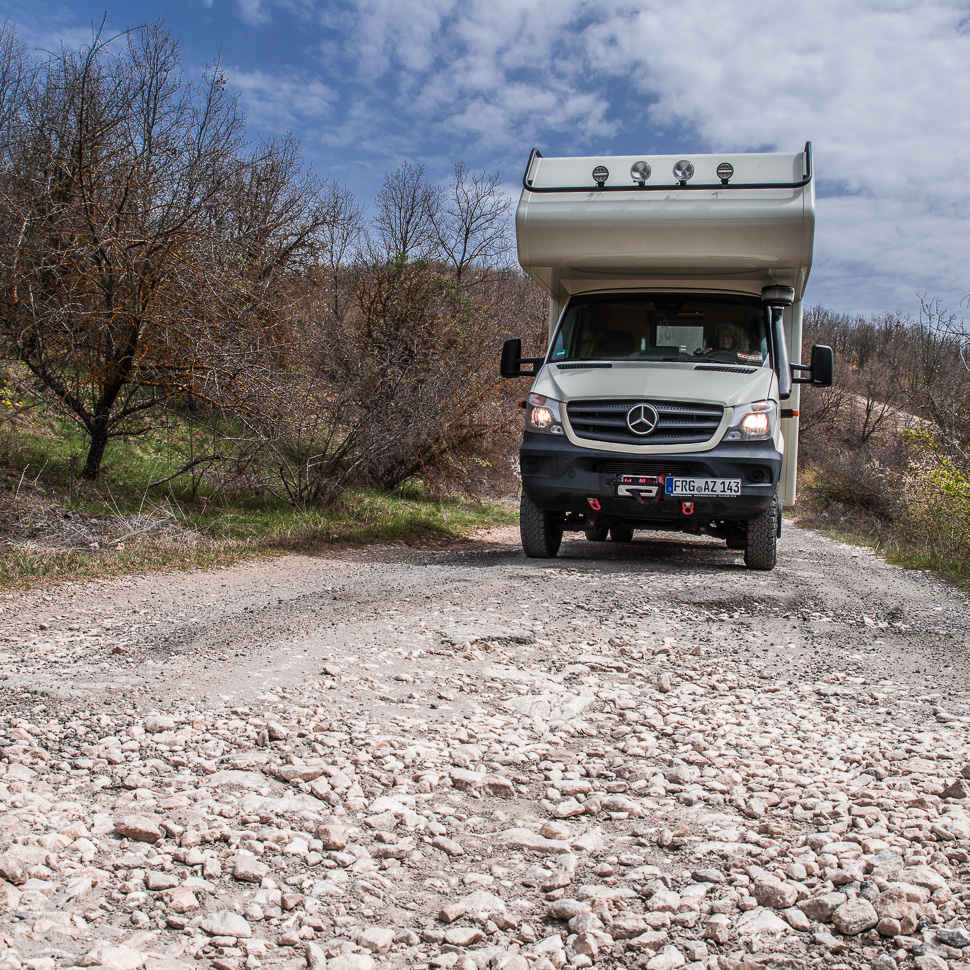 Of course there is a reason why we didn't stay longer in much warmer Greece. Soon we will be celebrating the 80th birthday of Edi's mum! Our next post will be probably from our route to Spain – more soon!