We were checking the weather, trying to find out where to go next. In the end we decided to go to Mestia, as the weather forecast was not too bad, and we didn't think that it would get much better, closer to winter.
The Enguri Dam is one of the highest concrete arch dams in the world with a height of 271.5 metres. But the Jinping-I Dam, at 305 m, is the tallest in the world. It is located on the Yalong River, a tributary of the Yangtze River, in Sichuan Province in southwest China and was constructed in 2013.
Construction of the Enguri dam began in 1961. The dam became temporarily operational in 1978, and was completed in 1987. In 1994, the dam was inspected by engineers, who found that the dam was "in a rare state of disrepair". In 1999, the European Commission granted €9.4 million to Georgia for urgent repairs.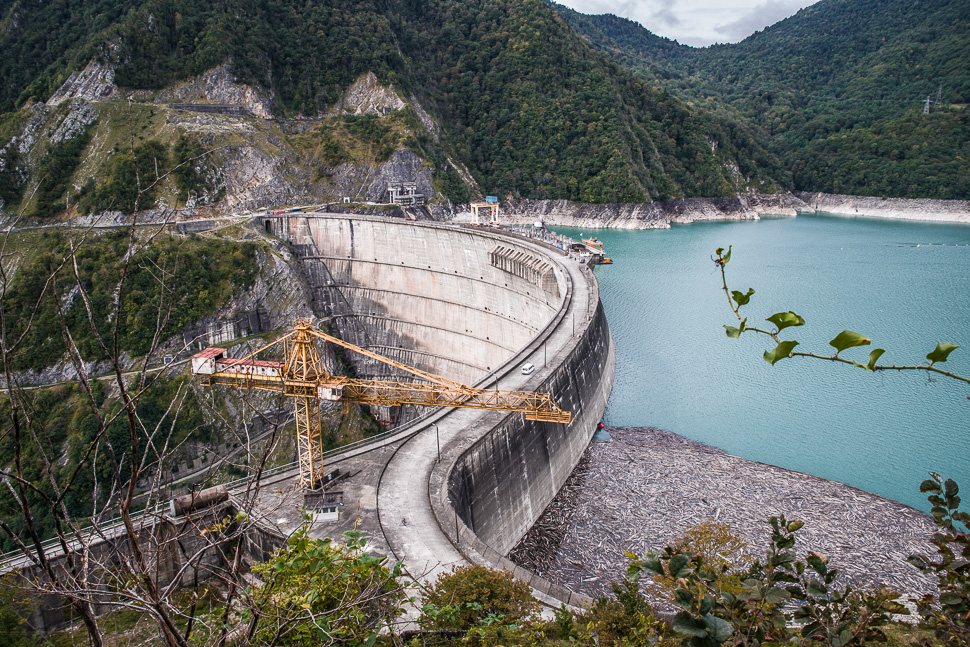 We were now in Svaneti, inhabited by the Svans, an ethnic subgroup of Georgians. Svaneti lies on the southern slopes of the central Caucasus Mountains surrounded by 3,000–5,000 meter high peaks, which makes it the highest inhabited area of the Caucasus.
Svanetian towers are defensive dwellings, the oldest still standing dating back to the 8th century. They are 20 to 25 meters high and have four or five floors connected by a wooden ladder. At the ground, the walls are up to 1.5 meters wide, and the entrance was usually at the level of an upper floor. Often a house is attached to the tower.
Tomorrow we want to explore Mestia a little bit more and go on a hike, if the weather cooperates! More on our next post!!