From the Kuiseb River we made our way north, past the Ganab waterhole to the Blutkuppe. The drive had some good and some bad parts, with corrugated pads and sandy river crossings. At the Blutkuppe we chose camp site no. 8, which was the last in the north before the deep sand started, something we didn't want to try out.
There are 15 campsites around the Blutkuppe. We stayed here for 2 nights and didn't see any other campers. There was a "long drop" toilet nearby, a fire place and bins and a picknick table under the tree – what more do you need?
With the binoculars, we had spotted a quiver tree high up on the mountain, which looked so lovely we decided to go there. It just turned out it wasn't that easy. From a distance it looks like a round boulder you can just walk up. In reality it gets very steep in some parts and you have to be very careful, as the onion skin weathering produces loose slabs.
Not far from the Blutkuppe a hike starts through fascinating rock formations. There is a parking and an information board, just no clear path to follow. Sometimes we saw some markers, but most of the time we had to navigate with the gps. (For hiking trails we use LocusMaps)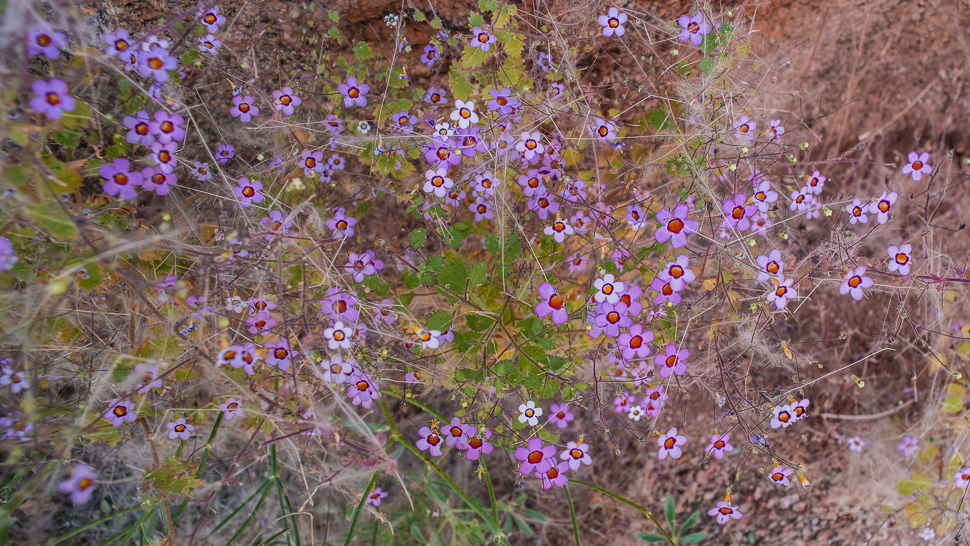 We had a great time at the Blutkuppe, with exploring the mountain and the surrounding area on foot. When you drive past, you think there is nothing, but when you walk around, you discover so many plants and animals, it is fascinating.
We need now a petrol station, as we discovered, that our tank volume is a restricting factor in this part of the world. Therefore we will head straight to Swakopmund to fill up and enjoy a couple of days of city life for a change.