With Llerena and Zafra we visited two towns with lovely historic centres, city gates and beautiful places. The whole area was in the hands of the Order of Santiago after the Reconquista.
The Moors were driven away from the area of Llerena in 1243 by the Spanish-Portuguese general and Grand Master of the Order of Santiago, Paio Peres Correia. Afterwards Llerena became the headquarters of the Order in this area.
As the Plaza de España was not only used for the market, but also served as a bullfight arena, the adjacent church has two rows of balconies, from where the spectacle could be watched.
In ancient times, Zafra was on the Via de la Plata, a road that was fortified by the Romans between Hispalis (Seville) and Asturica Augusta (Astorga). In the early 8th century the region was overrun by the Moors, whose rule lasted until the 13th century. The place name Safra or Çafra comes from this time. After the Reconquista Zafra was given to the Grand Master of the Order of Santiago.
The fortress-like palace of the dukes of Feria dates from the 15th century but was rebuilt in the 16th and 17th centuries – it is the best preserved late medieval non-sacred building in the province of Badajoz and is now used as a Parador.
Before we now left the Extremadura, we had one last stop, which was the monastery Tentudía at the top of a mountain at 1,104 metres. The first we did when we arrived there, was go to the restaurant where we managed to secure the last table on a Sunday noon. After lunch we were relaxed enough to visit the monastery.
The monastery of Tentudía is a church-fortress, built in the thirteenth century, expanded in the sixteenth and is considered one of the best examples of Spanish Mudejar.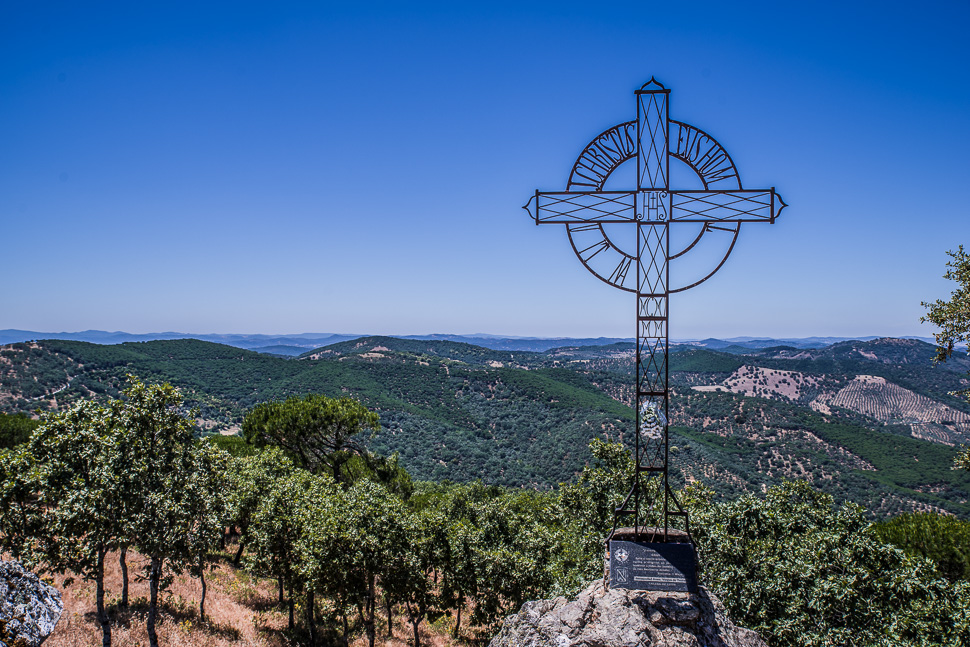 From the monastery we had a last view over the mountains in the south of the Extremadura. We are now on the way to the coast. Cádiz – we are coming!! More on our next post!