Mont-Saint-Michel at the coast of Normandy for sure is a must see for many. We were happy we made it here during our short Normandy trip together with our son. The weather cooperated and we already had a great view of the little hill in the sea from afar.
We had parked at a camper parking 5km inland, which has good infrastructure with bakery and restaurants nearby. From here it took us about 1 hour to walk along a dyke until we reached the island during low tide. Already from a distance, the mound is an impressive sight.
The tidal island was already used by hermits in the 6th century. In 708, an oratory was erected to Saint Michael. During the centuries the community grew and was supported by the changing rulers, but in the 10th century the lifestyle of the monks had become too profane and in 966 Benedictine monks were installed, which is marked as the founding year of the Mont-Saint-Michel Abbey.
Today 5 monks and 7 nuns of the Monastic Fraternities of Jerusalem, together with just a hand full of locals live on the island, but more than 1 million visitors come here every year.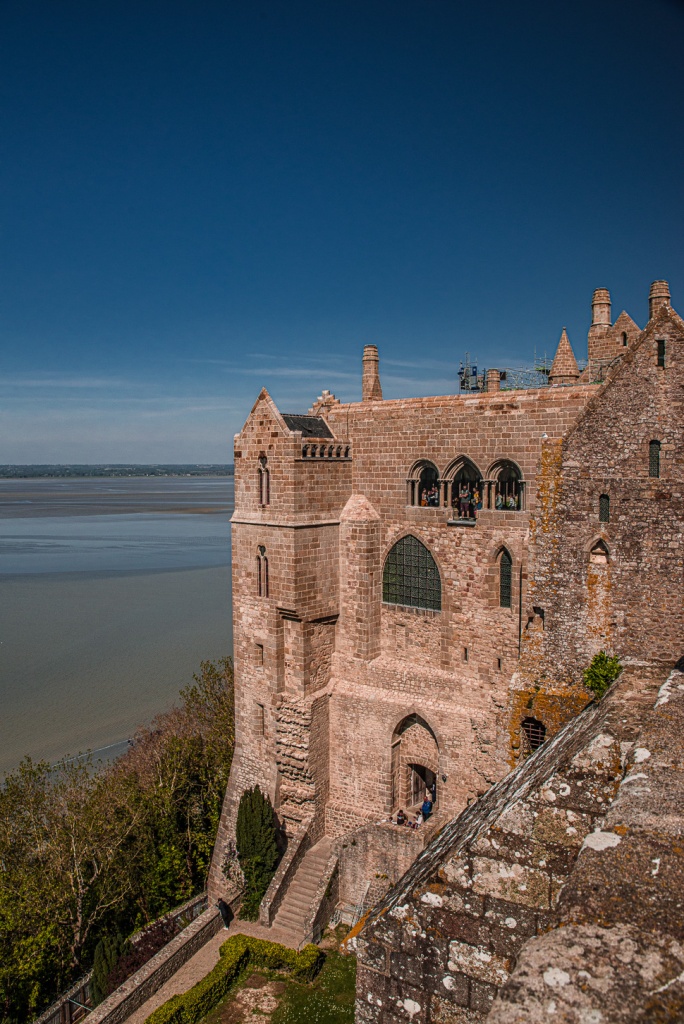 Besides of the abbey, Mont-Saint-Michel seems to have one major goal: to get as much money as possible from tourists. We made it through the alley of shops just with 2 postcards, which we bought for the grandparents – a success!
We really had enjoyed our visit to Mont-Saint-Michel, it is truly a sight you must have seen.
Did you know that there is a similar place on the other side of the Channel? During our trip to Cornwall we came past St. Michael's Mount.
Our trip to Normandy is nearly over, but on our way back to the Netherlands, we plan one more stop at Camembert – more on our next post!