We were hoping to be able to visit the Vatican in Rome, before our Green Pass expires, so we just stopped at Gaeta for a short visit and drove on. When we wanted to check in at a camping in the big city, our Green Pass turned red for the first time – very annoying! We decided not to try, if the Vatican might do a different kind of check and left Rome to drive to Orbetello, where we went for a hike. Afterwards we continued to Monteriggioni in Tuscany. As we are clearly not able to visit anything or go to any restaurant, we will be heading back to Austria, to get another vaccination. What a crazy world this is!! In many countries around us all the Corona restrictions are dropped, but Italy and Austria are still keeping this nonsense up.
In Gaeta we had parked a good distance from the centre and took a long walk to the tip of the headland sticking out into the Mediterranean. We noticed that Gaeta is also used as military port with a lot of fenced off areas.
Our next stop was at Rome, which didn't work out and we drove back to the coast to find a parking at a beach. The next day we decided to go for a walk at the Tombolo di Feniglia.
The island of Monte Argentario is connected to the mainland through three tomboli, sandy strips of land, enclosing the Orbetello Lagoon. The southern one – Tombolo di Feniglia, is largely natural. The extensive pine forests and fine sandy beaches are not accessible by car and are a habitat for deer and wild boar. In the lagoon you can spot many birds including flamingos. We decided to explore it on a hike.
Our next stop was much further north at Monteriggioni near Siena. It is a tiny village inside a medieval castle wall, located on a natural hillock. Monteriggioni was built by the Sienese in 1214–19 as a front line in the war against Florence.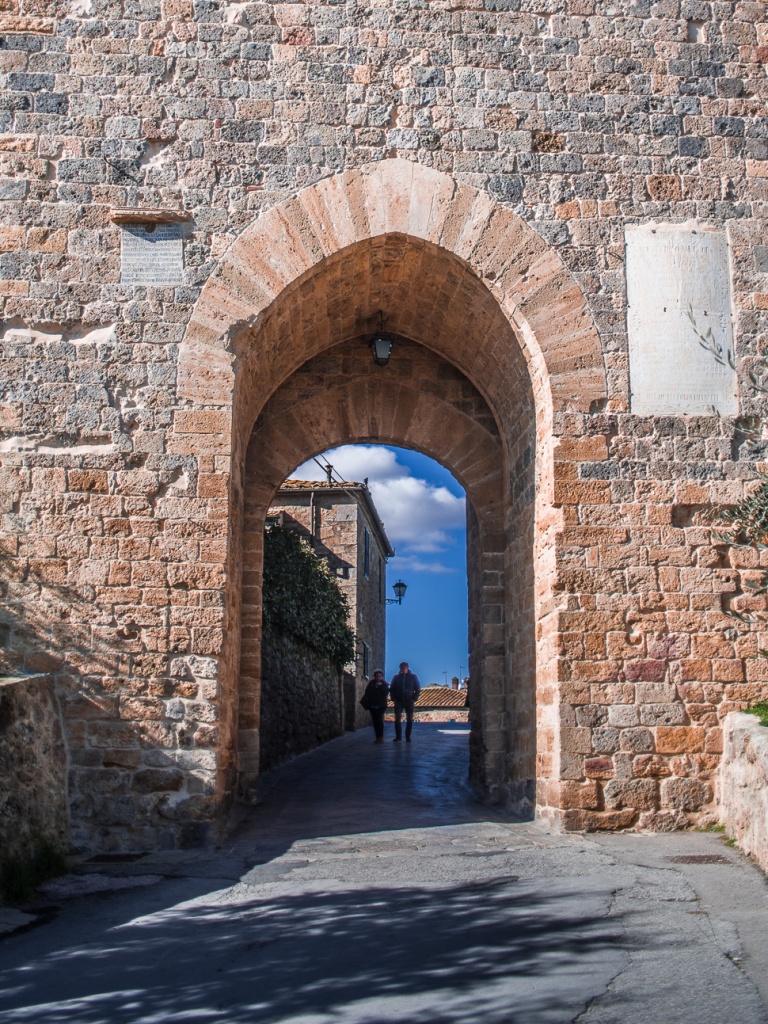 From the camper parking close to town, we went on a hike along the historic road leading to Siena. It took us through forests and over a medieval bridge. We also noticed some historic pavement on the track. A very nice route to explore the countryside!
We want to visit some towns where we haven't been before on our way back to Austria, like Rimini, San Marino and Ravenna. More on our next posts.