We are now more than 1000 days on the road and always try our best to find spectacular spots. After traveling through 34 countries and driving 100 000 kilometres, we know, that only about 3 percent are gravel road and a tiny part of it are really challenging off road passages. As we are driving a 5,5t camper, we can't use it for hard core off-road tracks. But if the access to a nice spot is a little difficult, it is important to know, if we can do it or not. Sometimes you might find yourself in a difficult situation unexpectedly, and then you should know how to get out of it.

Today, under experienced supervision, we wanted to find out what our camper (and the driver) is capable of.
Since installed our winch, we only used it to rescue others, who put themselves in precarious situations by being stupid. For us it was in any case a good practice. Now we wanted to try the winch to rescue ourselves.
Actually, this was not the first time, we spent a day at the Offroad Zentrum in Stotzing. 2018 we had our first off-road training with the camper there – Link to the post. Since then we have changed to bigger tires which increased our ground clearance a lot and we have reinforced the springs in the back leading to much more stabile driving.
Herbert took us on a test drive with his Steyr Puch G. It was incredible how this car masters every challenge with ease.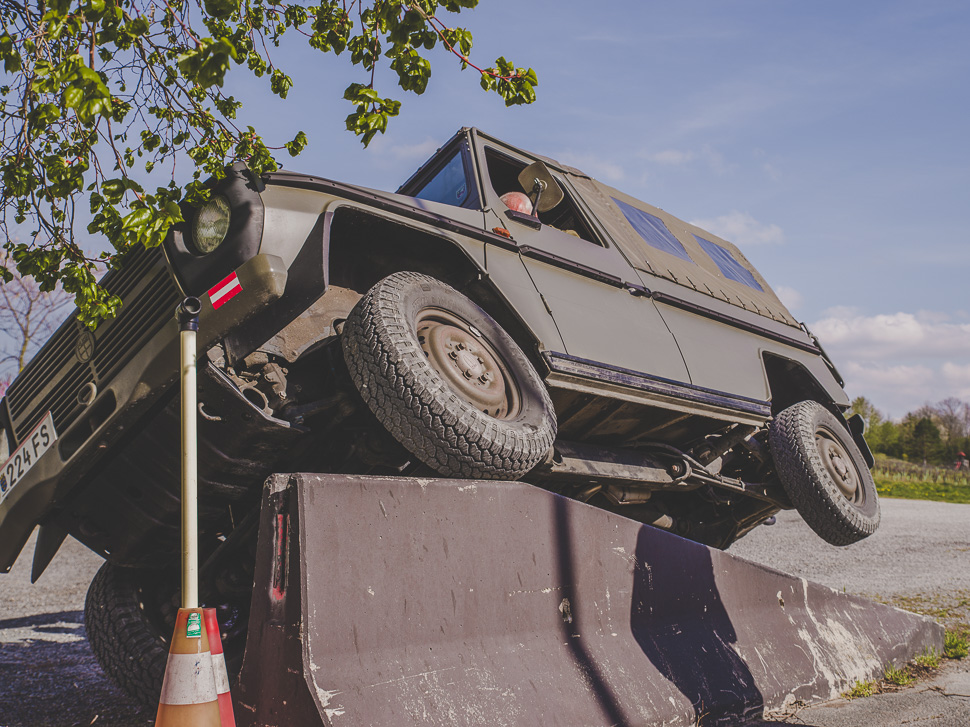 What a great day! Thanks to Herbert Partl from the Offroad Zentrum we had learned a lot. We drove our "little" camper over many difficult passages, up- and down, on inclined tracks, with steps and big holes – many parts we didn't think possible, but we did it!
If you want to find out what your camper can do off the road, and how to handle difficult situations, we recommend you a day at an off-road centre like this.
Details under: www.offroadzentrum.at