At the Embalse de Valdecañas we had a look at the remains of a Roman temple and found a river pool, where we could take a refreshing dip before a thunderstorm started. The next day we visited Romangordo, a tiny village with fascinating murals and finally the Monastery of Yuste, where Charles V spent the last years of his live.
The Roman town of Augustobriga was located in the east of the Roman province of Lusitania (Portugal) on the road from Emerita Augusta (Mérida) via Caesarobriga (Talavera de la Reina) and Toletum (Toledo) to Caesaraugusta (Saragossa). In the 1960s the Tajo river was dammed, so that the actual ruins of the city are now under water, only the portico of a temple and three truncated columns have been moved to a higher level.
In Valdecañas del Tajo, we found a river pool called Garganta Descuernacabras where we could take a refreshing bath. (39.743322, -5.629673)
The Monastery of Yuste was founded by the Hieronymite Order of monks in 1402. In 1556 Charles V, Holy Roman Emperor, retired to this monastery, after having abdicated the Spanish crown in favour of his son Philip II of Spain and the crown of the Holy Roman Empire in favour of his brother Ferdinand I. He intended to devote the rest of his life to prayer in this rather out of the way and obscure monastery. Nonetheless, the monastery had to be expanded with a palace to make room for the emperor and the 50 or 60 members of his entourage. From his bed, he had a direct view of the altar at the church.
From time to time well-known people, including his illegitimate son Don Juan de Austria and his heir Philip II of Spain, came to visit the retired emperor. Charles died there in 1558. He was buried in the monastery church, though his remains were later transferred to the Royal Monastery of San Lorenzo del Escorial.
In 1809, during the Peninsular War, the monastery was burnt to the ground by the French army. It was left in ruins until 1949, when the Spanish government restored it at the behest of Francisco Franco.
The local authorities of Romangordo found a way to put the otherwise unnoticeable village on the map with two urban art projects that have become a great tourist attraction. The first project involved painting walls, and the second one involved painting garage doors.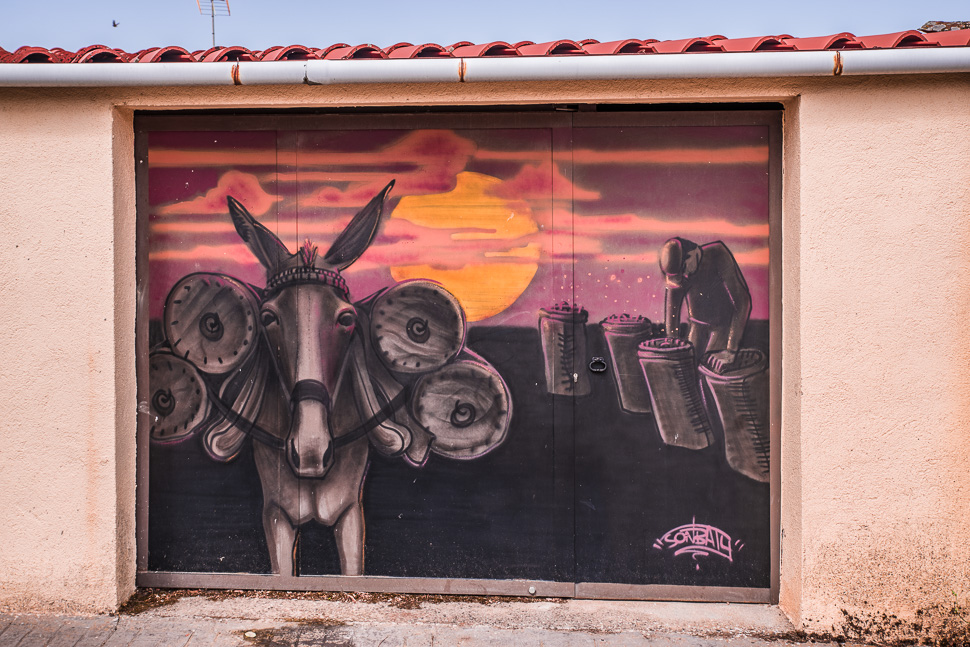 There are many more painted walls and garage doors in Romangordo and it is worth coming here and taking a walk through this little village with so much to discover. We had visited a different village with street art not long ago: Penelles.
At night we reached the Embalse de Plasencia, where we immediately went for a swim to cool down. Next we want to go cycling again, before we will visit Granadilla, the abandoned town at another dam. More on our next posts!