On our way through Belgium, we stopped at Dinant at the river Maas, and later found by chance our way to the abbey ruins of Villers-la-Ville, which is an amazing site.
Dinant is the hometown of Adolph Sax, the inventor of the Saxophone. We didn't know that, but from the number of saxophones you see in Dinant, we quickly realised, that Dinant is somehow connected to this instrument.
The city's landmark is the  Church of Notre Dame. It was rebuilt in Gothic style on its old foundations after giant falling rocks from the adjacent cliff partially destroyed the former Romanesque style church in 1227. Several stages for a pair of towers were completed before the project was abandoned in favour of the present central tower with the famous onion dome – a true landmark.
Impressive for us was the altarpiece and especially the stained glass window at the southern transept.
We were on the highway again, when we noticed a sign for some church ruins. We took the turn off and found the Abbey of Villers.
The Abbey of Villers was founded in 1146 by Cistercian monks from Clairvaux. Contemporary accounts suggest that during its heyday roughly 100 monks and 300 lay brothers resided within its walls. The lands attached to the abbey expanded considerably, with some 100 km² of woods, fields, and pasturage.
In the 17th and 18th centuries, the abbey's fortunes diminished. The number of monks and the abbey's wealth dwindled, and it was finally abandoned in 1796 in the wake of the French Revolution. The abbey was sold and used as a quarry for decades. In 1855, even a railway line was built, going through the old abbatial grounds. In 1893, the Belgian state purchased the site and launched a conservation effort.
Today the grounds are well preserved and give a great impression of the once majestic abbey. When we came, the grounds housed a camp for young people running around in knights costumes. A special event must be the "Night of the Choirs", an international festival taking place every year.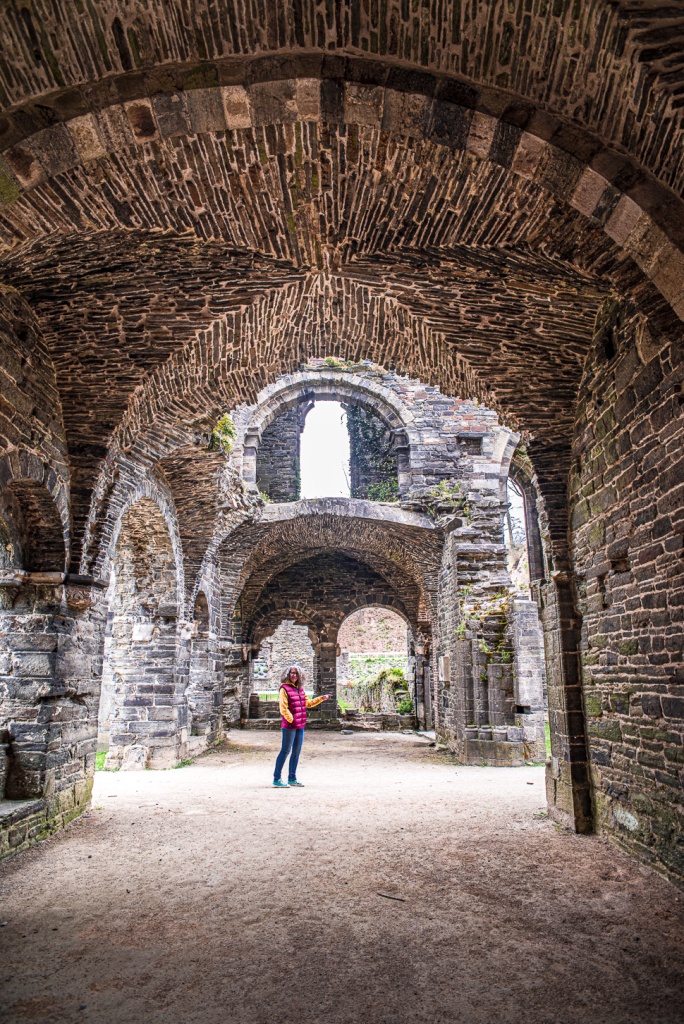 The church, although in ruins, is an outstanding example of Cistercian architecture, with imposing vaulting, arches, and rose windows. It took 70 years to build and was completed by the end of the 13th century. The church is 94 m in length, with the vaults of the nave culminating at 23 m.
The 13th-century two-aisled refectory is 30 meters long and 14 meters wide.
We will now leave Belgium again, and continue to the Netherlands, where we stopped at Breda first. More on our next post!