Our second time in Fethiye, we wanted to visit the abandoned Greek village of Kalaköy and Lycian rock tombs. But we were not sure, if the weather would allow us to visit anything. When we arrived at Kalaköy, a village in the mountains between the bay of Fethiye and the coast, it was pouring with rain. But luckily, one of the restaurants around the parking was open and we decided to seek refuge there.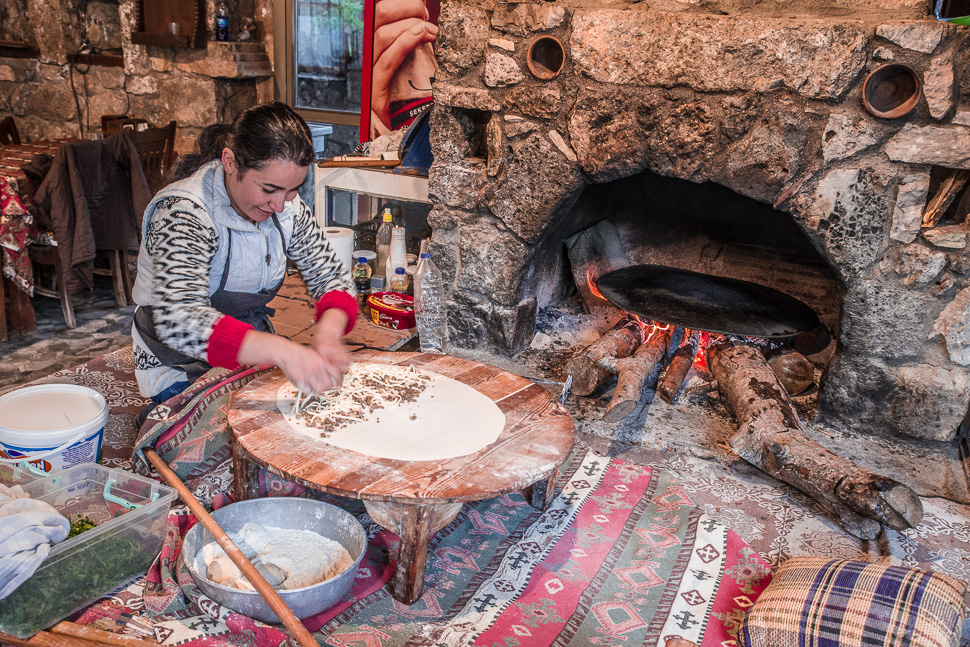 Inside the restaurant, it was cosy and warm, as already a fire was lit and Gözleme were getting prepared. We ordered some for us and watched, how they got baked on the griddle.
After our brunch, we took a small tour through the abandoned houses of the Greek village Livissi. The inhabitants didn't leave their homes freely, but were pursued by the Ottomans for a long time because of their religion. After the Greco-Turkish War of 1919–1922 everybody finally had to leave. Because of the defeat of Greece, the Treaty of Lausanne stipulated the Population exchange between Greece and Turkey, which required that any remaining Orthodox Christian citizens of Turkey had to leave their homes for Greece.
On the way back to Fethiye, we stopped at the Lycian tombs, which were hewn into the rocks above Fethiye, where once the Ancient Greek city of Telmessos was located.
The impressive tomb was built in 350 BC by the Lycians, and has a Greek inscription on the side, which reads "Amyntou tou Ermagiou", which means "Amyntas, son of Hermagios".
We decided to use the bad weather to travel further north to Izmir. On the way we came past many flooded fields. Hopefully the rain will stop soon. More about our visit to Izmir in our next post!